Red Cabbage with Apples and Raisins
by Editorial Staff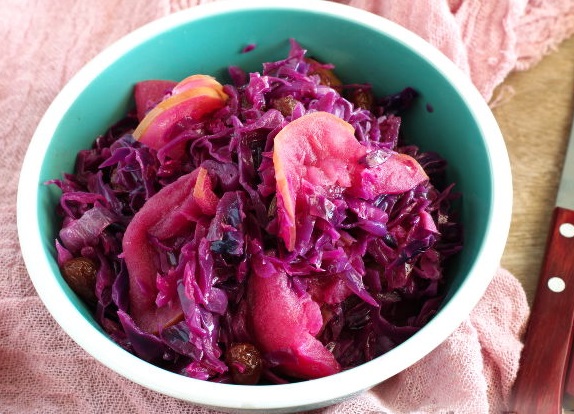 A delicious side dish of red cabbage, apples, and raisins is served with the Christmas goose in Denmark. Why don't we prepare the same side dish?
Ingredients
Red cabbage – 300 g (1 fork)
Sweet and sour apple – 1 pc.
Lemon – 0.5 pcs.
Raisins – 30 g
Purple onion – 1 pc.
Butter – 40 g
Garlic – 1 clove
Salt – 1 teaspoon
Ground black pepper – 1 pinch
Directions
We will prepare all the products for making a festive garnish of red cabbage, apples and raisins.

Rinse the raisins and fill them with hot water for 4-5 minutes, then salt the water with the raisins.
Chop the red cabbage with a knife or shredder very thinly.
Sprinkle chopped cabbage with the juice of half a lemon, add 1 teaspoon. salt and 1 pinch of ground black pepper. We remember the cabbage well with our hands so that it starts up the juice.
Peel the purple onion and cut it into half rings. Peel and cut the garlic into thin slices.
Melt half the butter in a frying pan, let it heat up, and fry the onion and garlic for 3-4 minutes until the onion is transparent, stirring the vegetables.
Add the remaining butter and shredded cabbage to the pan. We simmer the contents of the pan for 5-6 minutes until the cabbage becomes softer and decreases slightly in volume.
Cut the apple in half, remove the seed box and cut into slices.
Put the sliced ​​apples in the pan with the cabbage.
Add raisins to the pan, cover the pan with a lid and simmer the garnish for 25-30 minutes, until tender. Stir the ingredients during cooking, add a little water if necessary.

Red cabbage with apple and raisins is ready! We serve cabbage as a side dish for baked poultry!
Enjoy your meal!
Also Like
Comments for "Red Cabbage with Apples and Raisins"