Rice with Chicken, Carrots and Onions (in a Pan)
by Editorial Staff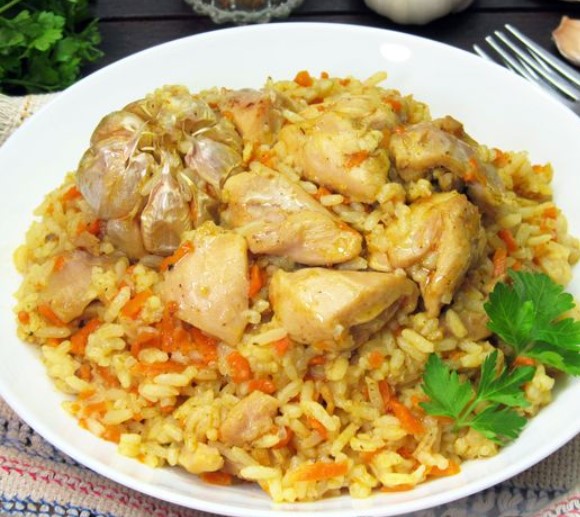 Rice, cooked in the same pan with chicken legs, carrots and onions, is soaked in meat and vegetable juices and turns out to be hearty and crumbly. Seasonings and garlic add a pleasant aroma to the dish. The dish is also interesting in that it is prepared without adding vegetable oil – on chicken fat. Therefore, the taste of chicken in the dish is much more pronounced.
Serving: 4
Ingredients
Rice – 175 g
Chicken legs – 570 g (2 pcs.)
Carrots – 120 g (1 pc.)
Bulb onions – 100 g (1 pc.)
Garlic – 40 g (1 head)
Seasoning for pilaf – 1-1.5 teaspoon
Salt to taste
Water (hot) – 500-550 ml
Directions
We prepare the necessary products.
My pilaf seasoning contains turmeric, coriander, paprika, barberry, cumin, thyme, basil and black pepper.
It is advisable to choose chicken legs with thick skin and a sufficient amount of fat.
We wash the rice well in several waters and fill it with cold water for a while while we cook the rest of the ingredients.
Cut off the skin from the legs and cut it into small pieces. If there is fat on the legs, we also cut and cut it.
Put the chicken skin in a preheated pan and fry it over low heat for 7-10 minutes to melt the fat out of it. After that we get the greaves.
Peel and wash onions and carrots. Cut the onion into small cubes, grate the carrots on a coarse grater.
Put the onion in a pan with chicken fat and fry it for 3-4 minutes, until transparent.
Add carrots to the onion.
Fry for about 4 more minutes, until the carrots are soft and light golden brown.
Separate the chicken meat from the bone and cut into large enough pieces.
Then add the chicken to the vegetables.Fry the meat with vegetables for another 5-7 minutes.

Squeeze the rice from the water and put it in the pan.
Stir the contents of the pan, fry a little (about 1 minute) to remove excess moisture. Then add the seasoning for pilaf and salt.
Mix everything and fry for another half minute. After that, spread the whole head of garlic (partially peeled off) in the center of the pan.
Gently add hot water to the pan, cover and cook over low heat for about 20 minutes without stirring.

Remove the pan from the heat and let the dish stand under the lid for another 15-20 minutes.
Rice with chicken, carrots and onions, cooked in a pan, put on plates and serve.
Enjoy your meal!
Also Like
Comments for "Rice with Chicken, Carrots and Onions (in a Pan)"