Spicy Beetroot Cream Soup with Fried Chickpeas
by Editorial Staff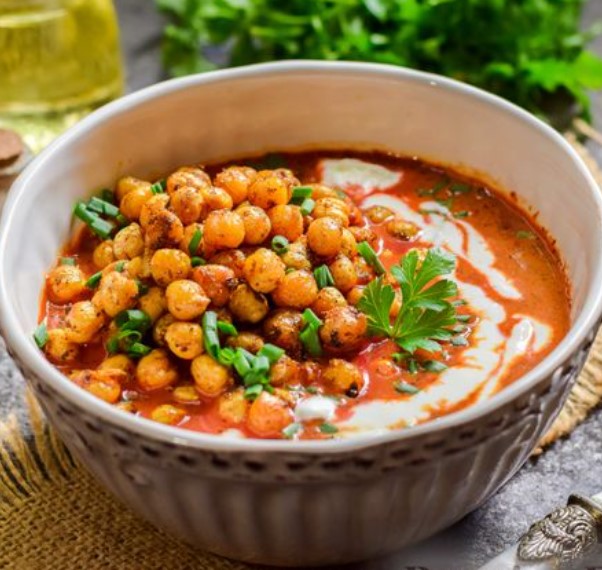 An unusual version of the original and bright in taste of the first course – beetroot cream soup with fried chickpeas. Beetroot itself has a pleasant sweetish taste, and if you beat it with spices, it will turn out incredibly tasty. Cream adds tenderness to the dish, and chickpeas add satiety.
Cook: 1 hour
Servings: 2
Ingredients
Beets – 350 g
Chickpeas (dry) – 100 g
Cream 20% – 100 ml
Onions – 50 g
Vegetable oil – 2 tbsp
Ground sweet paprika – 0.5 teaspoon
Hops-suneli – 0.5 teaspoon
Salt to taste
Ground black pepper – to taste
Ground turmeric – 0.5 teaspoon
Ground cinnamon – 1 pinch
Curry – 0.5 teaspoon
Water (or vegetable broth) – 700 ml
Directions
Prepare all the necessary foods. It is better to prepare the chickpeas in advance so that the cooking process is quick: put in a bowl, pour over with cold water and leave overnight. Peel the beets.

In the morning, rinse the chickpeas, transfer to a saucepan, add water, put on fire and cook for 35 minutes – until soft.
Place the chickpeas on a sieve and drain off excess liquid.
Heat 1 tablespoon in a skillet. spoon of vegetable oil and put chickpeas. Add half of all prepared spices to the chickpeas – suneli hops, turmeric, cinnamon, paprika, curry, salt and black pepper to taste.
Fry the chickpeas for 10-12 minutes over low heat, stirring occasionally. Then remove the chickpeas from the heat.
Peel the onions and cut into cubes.
Cut the beets into medium cubes.
Heat the remaining oil in a separate skillet and add the onions and beets. Fry, stirring occasionally, for 8-10 minutes, until golden brown.
Pour all remaining spices into the pan.

Pour in 700 ml of water (or vegetable broth), cover the pan with a lid and simmer over low heat until the beets are cooked – 35-40 minutes. The finer the beets are cut, the faster they will soften.
After a while, pour the beets with the rest of the water or broth into a blender bowl with a "knife" attachment and chop until smooth. Take a sample for spices.
Pour the resulting puree into a saucepan and pour in the cream. Depending on your preference for the thickness of the soup, you may need a little less or more cream.

Boil the soup for another 1 minute and turn off the heat.
Pour the beetroot soup into bowls, add the sauteed chickpeas and some cream for garnish.

Enjoy your meal!
Also Like
Comments for "Spicy Beetroot Cream Soup with Fried Chickpeas"