Spinach Casserole with Pesto Sauce
by Editorial Staff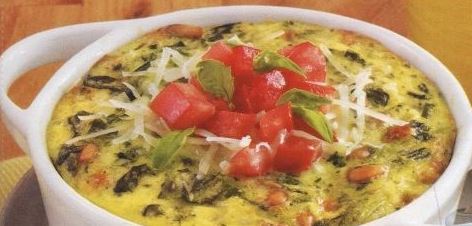 Spinach casserole is not only healthy but also delicious!
Ingredients
Pine nuts – 1/4 cup
Frozen spinach leaves (thawed and squeezed out of water) – 1 cup (320 g)
Cottage cheese – 1 glass
Monterey jack cheese – 1 glass
Pesto sauce – 1/4 cup
Eggs (slightly beaten) – 4 pcs.
Milk – 1/4 cup
Tomato (chopped) – 1 pc.
Parmesan cheese (finely chopped) – 1/4 cup
Fresh basil leaves for garnish
Directions
Turn on the oven to preheat 180 degrees. Grease a small ovenproof dish (about 300 g) with vegetable oil and place on a rimmed baking sheet.
Pour the pine nuts into a frying pan and fry over medium heat, stirring for about 5-7 minutes, until the nuts start to change in color to light brown.
In a small bowl, combine cottage cheese, spinach, Monterey cheese, pesto, and toasted pine nuts. Add eggs and milk, mix well and put the mixture in a prepared mold.
Place the dish in the oven and bake for 25-30 minutes. Remove the prepared casserole from the oven, let it cool at room temperature for about 5 minutes, and then put the chopped tomatoes on top, sprinkle with Parmesan and garnish with basil.
Also Like
Comments for "Spinach Casserole with Pesto Sauce"