Unleavened Bread Made from Rye Flour Sourdough
by Editorial Staff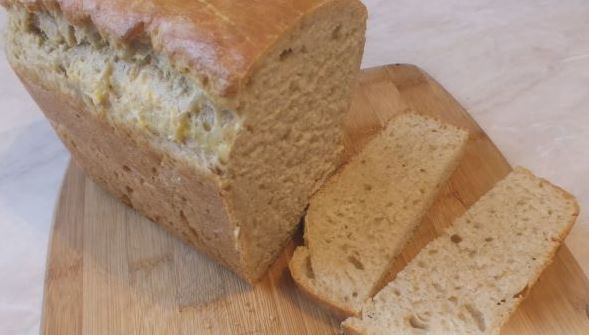 A fragrant and very tasty yeast-free bread made from rye flour sourdough. Wheat-rye bread itself is baked in the oven quickly, but making the sourdough at home is a very long process.
Cook: 7 days
Ingredients
To leaven:
Rye flour – 15 tbsp
Warm water (40 degrees) – 2.3 cups
For bread:
Rye flour sourdough – 250 g
Wheat flour – 350 g
Eggs – 2 pcs.
Kefir – 200 g
Salt – 1 teaspoon
Sugar – 2 tbsp
Vegetable oil – 2 tbsp
Yolk (for lubrication) – 1 pc.
Directions
Pour 3 tablespoon into a deep container. tablespoons of flour and pour in 0.5 cups of warm water (40 degrees).
Mix well. The consistency of the dough should be like thick sour cream.
Cover with gauze and put in a warm place for a day. I do not recommend placing on batteries or other hot objects.
The next day, the leaven should be mixed well and "fed" – add 2 tablespoon. tablespoons of rye flour.
Pour in 0.3 cups of water and mix well. Cover with gauze again and leave for a day. Thus, it is necessary to "feed" the leaven for 7 days. The older the leaves, the more the bread will rise.
On the 7th day, the rye flour sourdough is ready, and you can already start directly making bread.
Mix the leaven with kefir. Drive-in eggs. Pour in 125 g flour. Mix well. Cover with a towel and leave in a warm place for 1 hour. The dough went very well.

Salt. Add 2 tablespoon. tablespoons of sugar. Pour in 2 tablespoon. tablespoons of vegetable oil. Mix. Add the remaining flour. Knead the dough. Grease a baking dish with vegetable oil and place the dough in the mold.
Place the mold in a warm place for 2-3 hours to allow the dough to come up. Then send the bread to an oven preheated to 180 degrees for 40 minutes.
Sourdough wheat bread is almost ready. Brush the bread with whipped yolk and place in the oven for another 5 minutes.
Bon Appetit!
Also Like
Comments for "Unleavened Bread Made from Rye Flour Sourdough"