Avocado Banana Smoothie
by Editorial Staff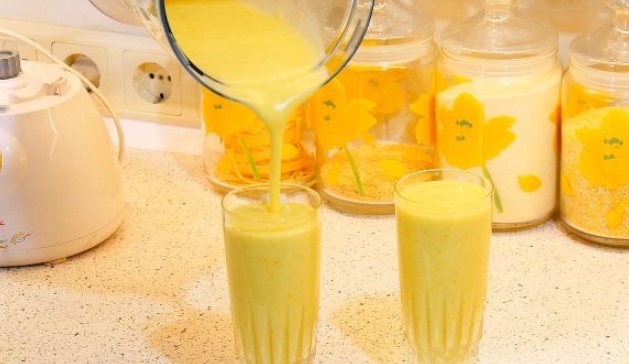 An elementary, delicious, healthy, and gourmet smoothie made with avocado, banana, coconut milk, orange, and lemon.
Cook: 15 min.
Servings: 2
Ingredients
Avocado (soft) – 1 pc.
Banana – 1 pc.
Orange (large) – 1 pc.
Lemon (medium) – 1/3 pcs.
Coconut milk – 250 ml
Honey or sugar – 1 tbsp
Directions
Take a soft avocado, cut it in half, remove the pit.
And scrape the pulp with a spoon from the "boats" of the peel and put it in a blender.
Peel one banana, cut it into slices and also put it in a blender.
Rub the zest from half of a large orange on a fine grater. We send it there – to the blender.
Now cut this orange in half and squeeze the juice out of it (from the whole orange). Squeeze juice from one-third of a medium lemon.
Pour orange and lemon juices into a blender.
Add a glass of coconut milk to the blender. (You can replace coconut milk with cow milk, but in this case, naturally, there will be no coconut note in the drink, and the drink will automatically cease to be lean-vegan. Alternatively, coconut milk can be replaced with any other vegetable milk.)
Add a tablespoon of sugar or honey.
Beat until smooth.
The smoothie will turn out cold if the banana is pre-frozen. And if you freeze the finished smoothie, you get ice cream. Bon appetit and don't be afraid to experiment!
Also Like
Comments for "Avocado Banana Smoothie"