Avocado, Tomato, Cucumber and Radish Salad
by Editorial Staff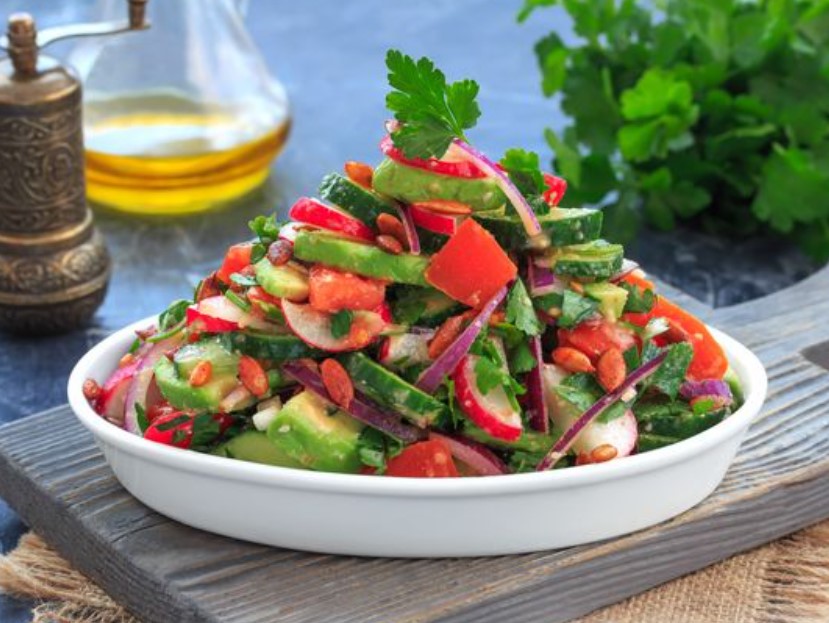 A crispy and juicy salad of avocado, tomato, cucumber and radish is what you need for a light dinner or a hearty and healthy snack during the day. The salad turns out to be nutritious, light, pleasantly refreshing. Try it!
Cook: 20 mins
Servings: 2
Ingredients
Avocado – 1 pc. (200 g)
Tomato – 1 pc. (200 g)
Cucumber – 1 pc. (225 g)
Radish – 4 pcs. (100 g)
Red onion – 0.5 pcs. (70 g)
Parsley leaves – 25 g
Peeled pumpkin seeds – 30 g
Olive oil – 2 teaspoon (for frying)
Hot paprika – 1 teaspoon
Salt to taste
For refueling:
Sesame seeds – 2 teaspoon
Olive oil – 3 tbsp
Wine vinegar – 1-2 teaspoon
Directions
Prepare food.

Cut the tomato into small pieces, fold over a bowl on a sieve in order to collect all the juice that has emerged. Sprinkle the tomato with 1 or 2 pinches of salt, stir and leave in a sieve while you prepare the rest of the ingredients.
Heat olive oil in a skillet over medium heat. Add pumpkin seeds to the skillet and, stirring occasionally, fry for 2-3 minutes until golden brown.
Turn off the heat, sprinkle the seeds with paprika and stir well again.
Transfer the toasted seeds to a paper towel to stop cooking and remove excess oil.
Cut the cucumber, radish and red onion into thin half rings.
Place the cucumber, radish and onion in a deep bowl, add the chopped tomato. Use the collected tomato juice to make a salad dressing.
Prepare a dressing. To do this, pour tomato juice, olive oil and 1 teaspoon of vinegar into the blender bowl. Add sesame seeds.
Whisk everything for a few minutes at maximum speed until the mixture thickens slightly. Try the dressing and add more vinegar if needed.
Peel the avocado and cut into small pieces. Wash, dry and coarsely chop the parsley leaves.
Add avocado, herbs, and cooked dressing to the rest of the salad.

Mix everything thoroughly. Try the salad and add a little salt to taste if needed.
Sprinkle the salad of avocado, tomato, cucumber and radish with fried pumpkin seeds and serve.
Bon Appetit!
Also Like
Comments for "Avocado, Tomato, Cucumber and Radish Salad"