Beef Stew with Cauliflower
by Editorial Staff
Tender and juicy meat, vegetables and rich sauce – all this is a perfect combination in this dish. I want to show you how to cook beef stew with cauliflower. A wonderful recipe worth repeating.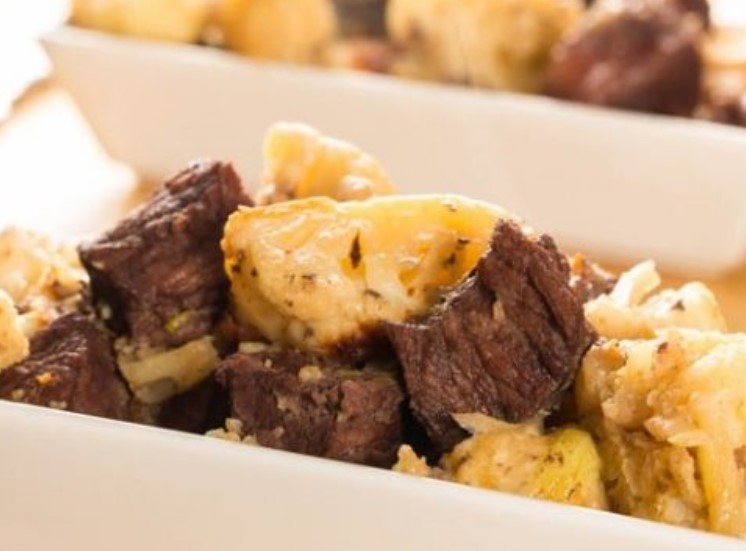 Cook: 1 hour 30 mins
Servings: 6-8
Ingredients
Beef – 1 Kilogram
Cauliflower – 1 Kilogram
Onion – 2 Pieces
Butter – 100 Grams
Vegetable oil – 2 Tbsp. spoons
Tomato paste – 1/2 Tbsp. spoons
Red Wine – 1/2 Glass
Salt, pepper, spices – To taste
Directions
This is the set of ingredients we will use.
Wash the meat, cut into cubes. Add chopped onions, salt, spices, wine. Stir and leave to marinate for a couple of hours. Then send to the pan and simmer over low heat for about half an hour. Transfer to a heavy-bottomed dish, add butter and a glass of water. Simmer for 1-1.5 hours over low heat until soft.

Wash the cauliflower, dry it, disassemble it into inflorescences and cut if necessary. Fill with water (cold!) And leave for 10-15 minutes.
Dry the cabbage and place in a frying pan with heated vegetable oil. Fry over high heat until crusty, stirring gently. Place the cabbage with the meat and simmer together for the last 5-6 minutes.
Bon Appetit!
Also Like
Comments for "Beef Stew with Cauliflower"