Belarusian Sorcerers
by Editorial Staff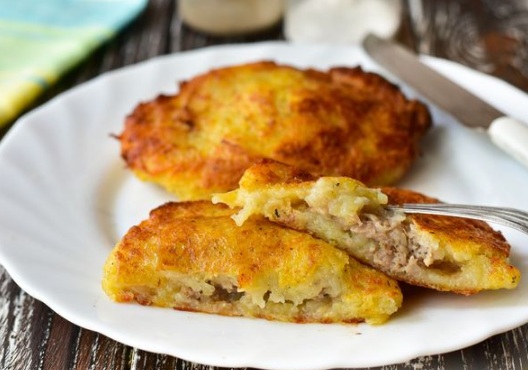 Have you ever tried to cook Belarusian sorcerers? If your answer is no, then I strongly recommend that you fix it as soon as possible and cook potato pancakes with meat filling according to this recipe – sorcerers.
Ingredients
Potatoes – 4-5 pcs.
Bulb onions – 0.5 pcs.
Minced meat (pork, beef, or mixed) – 100 g
Flour – 1-2 tbsp
Vegetable oil – 2 tbsp
Ground black pepper – to taste
Salt to taste
Directions
Peel potatoes and onions. Grate potatoes and onions on a fine grater.

Add salt and ground pepper to potatoes with onions (about 1 / 3-1 / 2 teaspoon each). Add flour. Stir the mixture with a spoon. If juice comes out, carefully drain it. I didn't drain the juice, because the potato mass turned out to be quite homogeneous.
Add salt and ground pepper to the minced meat (about 1 / 3-1 / 2 teaspoon), mix. Form flat cutlets from minced meat.

Pour vegetable oil into a frying pan preheated over medium heat. Put in a frying pan at 1 tablespoon. a spoon of potato mass, press down a little with a spoon, and smooth. Put one meat cutlet on top of the potato cakes.

Then put another 1 tablespoon on top. A spoon of potato mass and smooth again.
Fry potato pancakes stuffed with minced meat over medium heat for 2-3 minutes on each side.

Then transfer the wizards to a baking sheet. Send the sorcerers to the oven, preheated to 180 degrees, for 30 minutes.

These are the baked Belarusian sorcerers!
Also Like
Comments for "Belarusian Sorcerers"