Berry Cobbler with Peaches
by Editorial Staff
Cobbler recipe with blueberries, blackberries and peaches.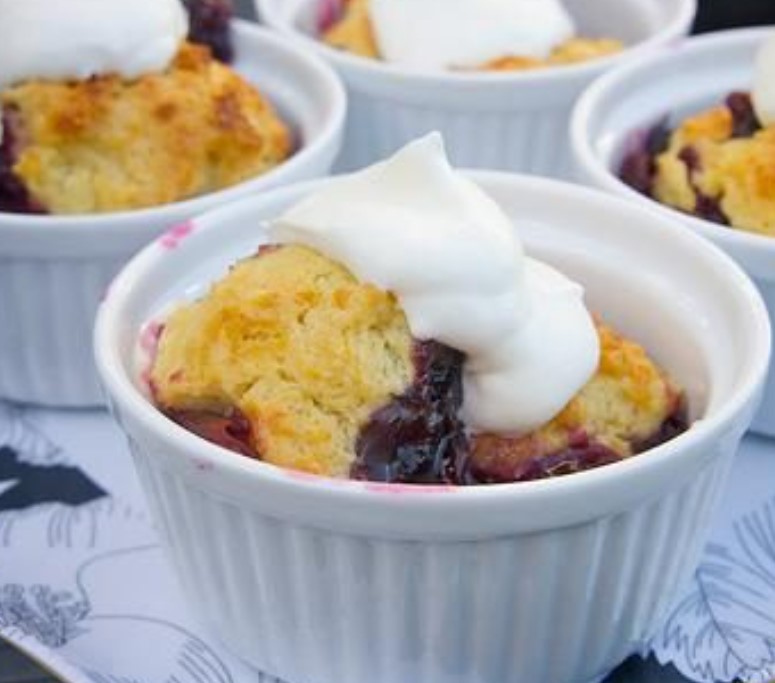 Cook: 40 mins
Servings: 6
Ingredients
Cornstarch – 2 1/2 Tbsp spoons
Berries – 900 Grams (for example, blueberries and blackberries)
Peach – 4 Pieces (medium)
Baking powder – 2 teaspoons
Salt – 1/2 Teaspoon
Chilled butter sticks – 1 1/2 Pieces
Whole milk – 3/4 Cup
Granulated Sugar – 1 Teaspoon
Directions
Chop the peaches, rinse the blueberries and blackberries under cold water. Preheat oven to 220 degrees with a rack in the center. Whisk the brown sugar and cornstarch together in a large bowl.
Add berries and chopped peaches, stir.
Place the berry mixture in a shallow baking dish and bake for about 12 minutes, until the mixture is warm.

Meanwhile, stir together the flour, baking powder and salt in a large bowl. Add chilled butter, chopped into chunks, and stir with your fingertips or a dough cutter until the mixture looks like large crumbs. Add milk and stir until a smooth dough is obtained.
Remove the dish from the oven and place 12 lumps of dough on the hot berry mixture. Stir in the remaining 1 teaspoon of brown sugar and granulated sugar and sprinkle on top of the dough.
Bake the cobbler until golden brown, 25 to 30 minutes.
Cool for 30 minutes and serve with whipped cream.
Bon appetit!
Also Like
Comments for "Berry Cobbler with Peaches"