Bolognese
by Editorial Staff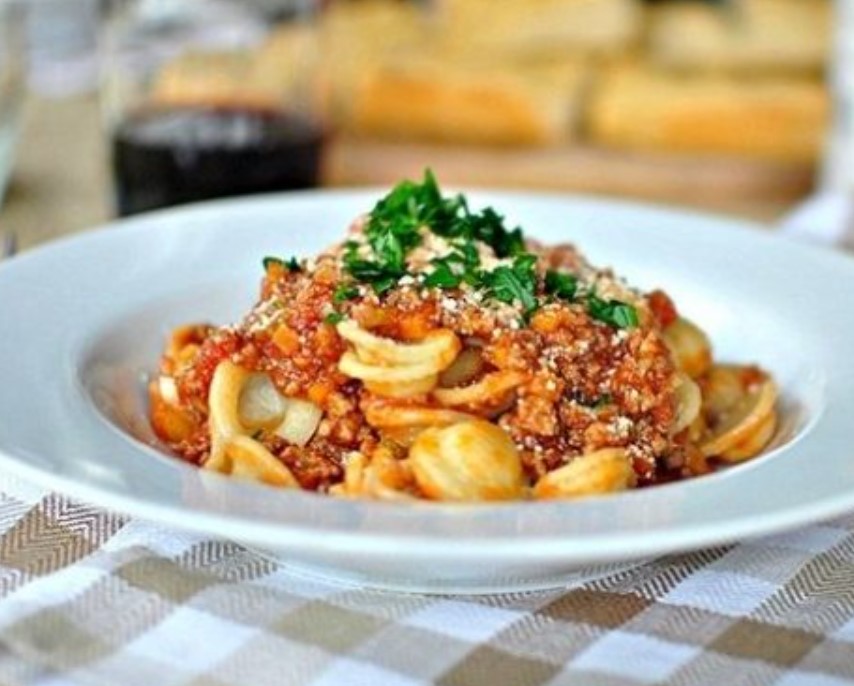 Bolognese (Italian Ragu alla Bolognese, French Saurce bolognaise) is an original meat sauce, which is served with pasta and vegetable dishes. The bolognese sauce recipe was discovered by the people of Bologna.
Cook: 4 hour
Servings: 6
Ingredients
Olive oil – 3 tbsp
Onion – 1 Piece (large)
Carrots – 1-2 Pieces
Celery, trunk – 2-3 pieces
Garlic – 2-3 Cloves
Dried Chili – 1/2 Teaspoon
Ground beef – 450 Grams
Veal – 200 Grams
Fresh thyme, leaves – 1
Bay leaf – 2-3 pieces
Tomato paste – 2 Tbsp. spoons
Milk or Cream – 1 Glass
Dry red wine – 1 Glass
Canned tomatoes – 780 Gram
Salt, black pepper – To taste
Grated Parmesan – To taste
Parsley – To taste
Directions
Wash, peel and finely chop (small cubes) celery, onion, garlic and carrot. Pour oil into a thick-walled high saucepan, heat and fry the vegetables until soft.

When vegetables are tender, add dried chili, stir and continue to fry, stirring occasionally.
Add minced meat – beef and veal. Smash with a spoon and stir in vegetables.
Add bay leaves, thyme and tomato paste to the finished meat.
Stir and cook for 2-3 minutes.
Add cream or milk. Stir and cook until the milk (cream) is absorbed into the meat.
After 10 minutes add wine and simmer for another 10 minutes.
Then add the tomatoes minced with a blender and the juice in which they were preserved.
Bring sauce to a boil, then reduce heat to low and simmer under half-covered lid for 2.5 hours.
Stir occasionally.
At the end of cooking add salt, pepper and stir.

Select bay leaves from bolognese and remove from heat.
Bolognese is a classic sauce for pasta, especially spaghetti. Cook and serve.
Bon Appetit
Also Like
Comments for "Bolognese"