Cake "Log" (Easiest Recipe)
by Editorial Staff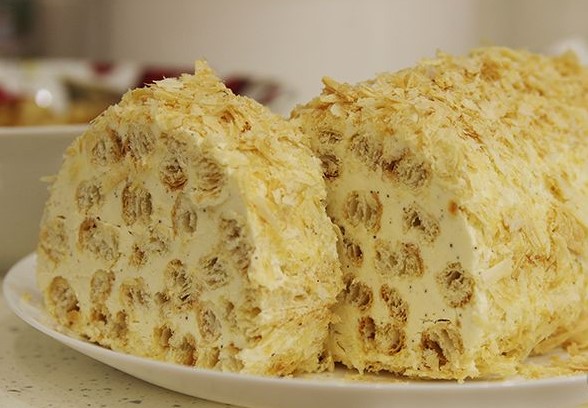 This cake, I'm sure, is prepared by many. Probably the simplest recipe for the "Log" cake is puff pastry, butter, and condensed milk. Those who count calories shouldn't look! I usually make this cake for Christmas (one of my five favorite Christmas sweets).
Cook: 13 hours (your 30 minutes)
Servings: 8
Ingredients
Puff pastry (defrosted) – 450 g
Butter (softened, room temperature) – 400 g
Condensed milk – 1 can (380 g)
Natural ground coffee – 2 teaspoon.
Directions
To make the "Log" cake, I roll out the defrosted puff pastry and cut it into strips.
I spread the strips of dough on a baking sheet covered with parchment paper and put them in an oven preheated to 200˚C for 10-15 minutes.
These are the sticks you get.

For the cream, beat the softened butter, add condensed milk and coffee, beat again. Condensed milk cream with butter is ready!
On the table, I lay out cling film in several layers. I spread the cream, then a few puff sticks (leave a little to decorate the cake), cream again, etc.
I roll it up and put the cake in the refrigerator for at least 12 hours.

Then I remove the film and decorate the cake with puff crumbs.
Cake "Log" with condensed milk cream is ready.
Such a puff pastry cake can be prepared in advance and frozen. After defrosting, as for me, the "Log" cake is even tastier!
Also Like
Comments for "Cake "Log" (Easiest Recipe)"