Cauliflower with Cheese
by Editorial Staff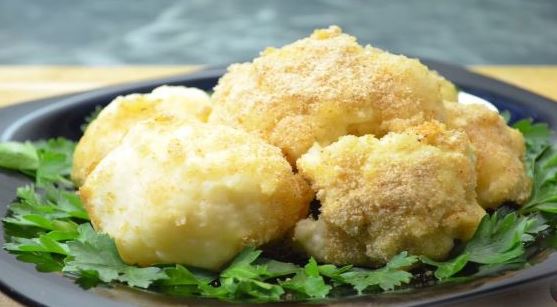 There are many recipes for cooking cauliflower dishes. Baked cauliflower with cheese sauce is a very simple and delicious dish worth making. This is a great side dish for meat or a great independent dish.
Cook: 1 hour 10 minutes
Servings: 5
Ingredients
Cauliflower – 800 g
Gouda cheese – 100 g
Lemon juice – 1 tbsp
Flour – 1 tbsp
Butter – 2 tbsp
Milk – 0.5 cups
Vegetable broth – 0.5 cups
Raw yolk – 1 pc.
Bread crumbs – 2 tbsp
Salt to taste
Nutmeg – 1 pinch
Parsley to taste
Cauliflower is a very healthy product that is also delicious! In addition, cauliflower is useful for everyone who monitors their weight, because 100 grams of cauliflower contains only 30 Kcal.
Directions
Add salt to taste, lemon juice to a saucepan of boiling water, and cook the cabbage for 10 minutes. Then put the cabbage in a colander and place over the steam to keep it warm.
Grate cheese on a fine grater.
To prepare the sauce in melted butter, fry the flour, add the vegetable broth, bring to a boil, then add the milk. Send cheese there.
Then add nutmeg, salt and simmer the sauce over low heat for 8 minutes, stirring constantly.
Mix the yolk with 2-3 tablespoons of the cooled sauce. Then add to the sauce, stir. Divide the cabbage into inflorescences. Add sauce to the cabbage, mix gently (you can use your hands).
Grease a baking dish with melted butter and sprinkle with breadcrumbs.

Place the cauliflower in the cheese sauce in a mold. Put bread crumbs on top of the cabbage and bake the cauliflower with cheese in the oven at 180 degrees for 30 minutes.
Cauliflower with cheese sauce is ready. Decorate the dish with herbs and serve.
Enjoy your meal!
Also Like
Comments for "Cauliflower with Cheese"