Chicken Meatballs Baked in Onion Sauce
by Editorial Staff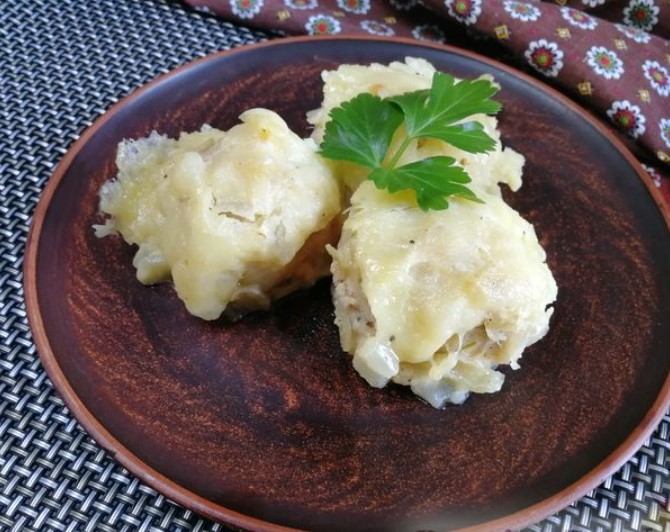 I highly recommend that you cook delicious chicken meatballs baked in onion sauce. It gives the meatballs incredible flavor and juiciness.
Ingredients
For the meatballs:
Minced chicken – 0.5 kg
Hard cheese – 230 g
Bread crumbs – 60 g
Egg – 1 pc.
Garlic – 2 cloves
Fresh or frozen chopped parsley – 2 tbsp
Vegetable oil – 2 tbsp
Salt to taste
Ground black pepper – to taste
*
For the onion sauce:
Onions – 300 g
Garlic – 3 cloves
Dry white wine – 50 ml
Chicken broth or water – 120 ml
Butter – 60 g
Salt to taste
Ground black pepper – to taste
Directions
First, let's prepare the chicken meatballs.
We turn on the oven to heat up to 180 degrees.
Rub the cheese on a coarse grater.
Add an egg, bread crumbs, parsley, garlic pressed through a press, 1/3 of grated cheese to the minced meat, salt and pepper to taste.
Knead and beat the minced meat thoroughly.

Form the meatballs and put them in a greased baking dish.
We send the meatballs to the preheated oven for 20-25 minutes.
In the meantime, prepare the onion sauce.
Finely chop the onion and garlic.
Preheat a frying pan with butter, add onion and garlic. Fry until golden brown (about 5 minutes).
Then add wine and boil it for 2 minutes, pour in chicken broth (or water), salt and pepper to taste. Simmer the sauce for another 3 minutes.

We take out the chicken meatballs from the oven.
Pour the onion sauce over them.
Sprinkle with the remaining grated cheese on top.

We send it to the oven for another 15 minutes.
Chicken meatballs in onion sauce are ready.
Good appetite!
Also Like
Comments for "Chicken Meatballs Baked in Onion Sauce"