Baked Chicken Meatballs
by Editorial Staff
Recipe for baked chicken meatballs, Italian bread, bacon, onion, garlic, tomato paste and parsley.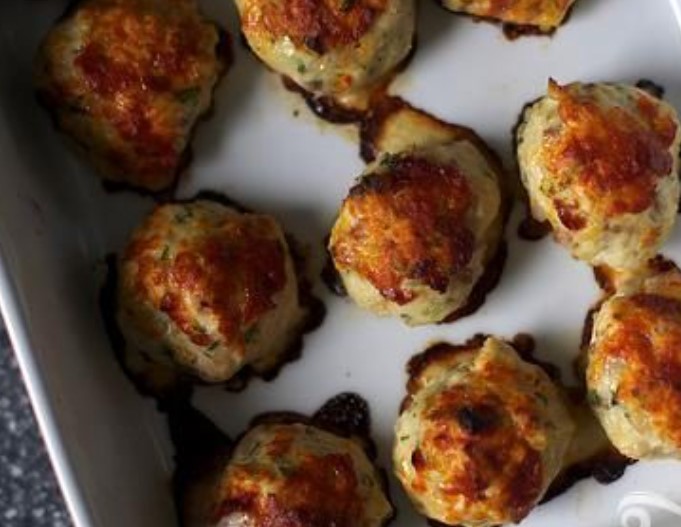 Cook: 35 mins
Servings: 4
Ingredients
Italian Bread – 3 Slices
milk – 1/3 Cup
Bacon – 90 Grams
Onion – 1 Piece
Garlic – 1 Clove
Olive oil – 2 tbsp
Egg – 1 Piece
Chicken – 450 Grams
Tomato paste – 2 Tbsp. spoons
Parsley – 3 tbsp
Directions
Preheat oven to 200 degrees with rack in top third. Break the Italian bread into small pieces. Soak bread in milk in small bowl until tender, about 4 minutes. Chop bacon, onion and parsley finely. Chop the garlic.
Saute bacon, onion and garlic with 1 tablespoon olive oil with 1/2 teaspoon salt and pepper in a large skillet over medium heat until the onions are tender, about 6 minutes. Let the mixture cool down easily. Squeeze bread soaked in milk to remove excess milk. Whisk the egg lightly in a large bowl, then combine with the chicken, 1 tablespoon tomato paste, bacon mixture, bread and parsley.

Form 12 meatballs from the mass and place on a baking sheet or in a baking dish. Stir in the remaining tablespoon of tomato paste and oil and brush over the meatballs with the mixture.
Bake the meatballs in the oven until tender, 15 to 20 minutes.
Bon appetit!
Also Like
Comments for "Baked Chicken Meatballs"