Chicken Meatballs with Apples
by Editorial Staff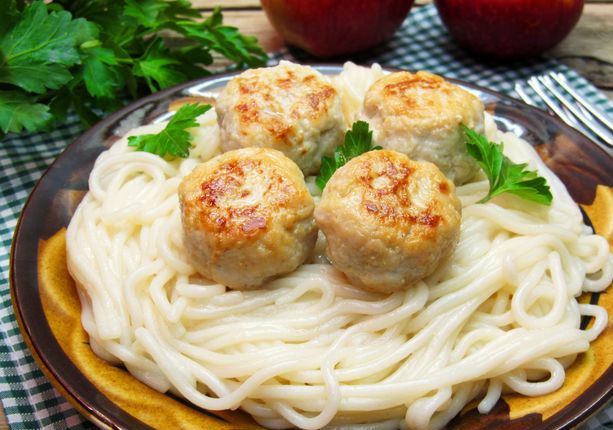 Appetizing minced chicken meatballs can be prepared in an unusual way if you add sweet and sour apples. Apples go well with chicken, giving the original sweet and sour flavor. Such meatballs turn out to be more juicy and very tender. Make chicken meatballs with apples – you'll love them!
Ingredients
Minced chicken – 500 g
Apples – 250 g (2 pcs.)
Onions – 120 g (1 pc.)
Salt to taste
Ground black pepper – to taste
Vegetable oil (for frying) – 30-50 ml
Directions
Grate onions on a medium grater or chop in a blender. Peel the apples and remove the seed box and rub on a medium grater. In a bowl, combine the minced chicken, grated apples and onions, salt and black pepper. Stir the mass until smooth.
With wet hands, form small meatballs (about the size of a walnut) from the minced meat. Heat the vegetable oil in a pan and put the meatballs there. Fry them over medium heat until golden brown, 2-3 minutes.

Then turn the meatballs over to the other side, fry for 1 minute. Then we reduce the heat to minimum, cover the pan with a lid and continue to cook meatballs for another 2-3 minutes, until golden brown and the juice completely evaporates.

Chicken meatballs with apples go well with pasta, porridge or mashed potatoes.
Enjoy your meal!
Also Like
Comments for "Chicken Meatballs with Apples"