Chicken Meatballs With Cheese, Mediterranean Style
by Editorial Staff
Unusual serving of regular minced chicken meatballs. Meatballs with cheese are very easy to prepare, and the result is incredibly delicious!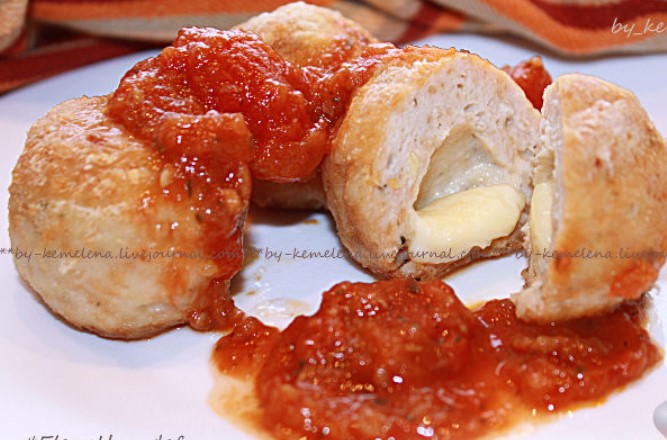 Cook: 2 hour
Serving: 5
Ingredients
Minced chicken – 600 g
Hard cheese – 150 g
Egg – 1 pc.
Provencal herbs – 2 teaspoon
Bread crumbs – 3 tbsp
Garlic – 5 cloves
Bulb onions – 1 pc.
Canned tomatoes in their own juice – 1 can (400-480 g)
Olive oil – for the sauce
Vegetable oil – for frying the meatballs and greasing the mold
Flour – for rolling meatballs
Sugar to taste
Salt to taste
Ground black pepper – to taste
Directions
Cooking meatballs. Add the grated garlic to the minced meat, a third of the finely grated cheese, eggs, bread crumbs, herbs, salt and pepper to taste. We knead well.

Divide the minced meat into 16-18 pieces. Cut the cheese into the same number of cubes.
We make balls from minced meat. We stuff the pieces of cheese into balls of minced meat, pinch the hole, form a round meatball.
Dip the chicken meatballs and cheese in flour.
Heat vegetable oil in a frying pan over medium heat. Fry the meatballs on all sides until golden brown.

We transfer the fried meatballs to a baking sheet (in a mold) and send them to an oven preheated to 180 degrees for 20-30 minutes (depending on the oven). Don't forget to add some oil to the bottom of the baking sheet.
Cooking the sauce. Rub the onion and garlic on a coarse grater or finely chop.
Heat olive oil in a skillet over medium heat. We spread the onion and fry, stirring occasionally, for about 5 minutes. Add herbs, fry, stirring occasionally, for another 1 minute.

Add the tomatoes along with the juice.
Bring to a boil and simmer the tomato sauce, covered, for about 10 minutes. Add salt and sugar to taste.
Serve oven-baked chicken meatballs with cheese with cooked tomato sauce


Enjoy your meal!
Also Like
Comments for "Chicken Meatballs With Cheese, Mediterranean Style"