Chicken Soup with Corn Grits and Cream
by Editorial Staff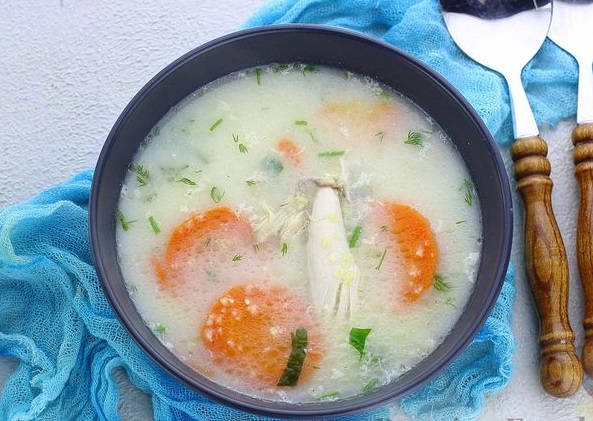 Chicken soup with corn grits and cream turns out to be very tasty, rich, with a delicate creamy taste. Cooking is quite simple and quick, especially if you prepare chicken broth in advance.
Ingredients
Chicken – 1 kg
Corn groats – 200 g
Cream 10% – 200 ml
Potatoes – 400 g
Carrots – 150 g
Fresh greens – 50 g
Salt – 0.25 teaspoon
Ground black pepper – 0.25 teaspoon
Bay leaf – 1-2 pcs.
Peppercorns (mixture of peppers) – 8-10 pcs.
Water – 2-2.5 l
Directions
Prepare all ingredients. To prepare the broth, instead of the whole chicken, you can take any part of it.

Rinse the chicken well and cut into portions. The skin can be removed if desired.
Place the chicken parts in a 3.5-4 liter saucepan and cover with cold water. Place a saucepan on the fire and bring water to a boil. Cook for 2-3 minutes over medium heat.
After a while, discard the chicken in a colander and drain the broth into the sink. You can skip this step, but in this case, be sure to carefully remove the foam immediately after boiling.
Rinse the chicken meat, return to the pan, and cover with clean water, add the bay leaf and the peppercorn mixture. Bring to a boil and cook the chicken for 50-60 minutes, until tender. Make a small fire so that the water doesn't boil too much. If the chicken is homemade, the cooking time can take up to 1.5 hours.

Peel carrots and potatoes. Cut the carrots into thin slices. Cut the potatoes into cubes.
When the chicken is done, remove it to a separate bowl and cool slightly. Add potatoes and carrots to the boiling broth.
Rinse the corn grits. Add to the pot, following the potatoes and carrots. Stir, bring to a boil, and cook for 20-25 minutes, until cereals and vegetables are tender.
Separate the chicken meat from the bones. I leave the wings intact, remove the skin.
When all the ingredients in the soup are done, add the chicken and cream. Stir and bring to a boil. Cook for 3-4 minutes over low heat.
Rinse greens and chop finely. Add chopped herbs to the soup, add salt and black pepper. Stir, bring to a boil, and simmer for 1 minute. Turn off the heat, cover the pot with a lid, and let the soup steep for 10-15 minutes.
Chicken soup with corn grits and cream is ready.
Serve soup with sour cream and herbs if desired.
Bon Appetit!
Also Like
Comments for "Chicken Soup with Corn Grits and Cream"