Chicken Soup with Corn
by Editorial Staff
Chinese style soup recipe.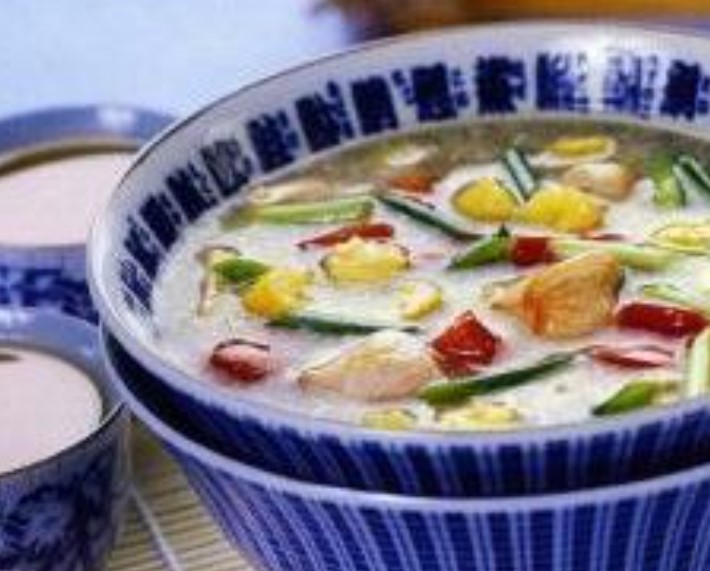 Servings: 4
Ingredients
Chicken Breasts – 500 Grams (with bones)
Small ears of corn – 200 Grams
Onion – 1 Piece
Carrot – 1 Piece
Black peppercorns – 4 pieces
Vegetable oil – 2 Tbsp. spoons
Feathers of green onions – 5-6 Pieces
Small red bell pepper – 1 Piece
Garlic – 1 Clove
Grated Fresh Ginger – 1 Clove
Sugar – 1 Teaspoon
Starch – 1
Cherry Tomato – 2 Pieces
Egg white – 1 Piece
Salt, pepper – 1 Piece (to taste)
Directions
Separate 200 g of chicken meat from the bones, set aside. Put the rest of the meat together with the bones in a saucepan with 1.5 liters of cold water and bring to a boil, remove the foam, salt and leave over low heat. Peel onions and carrots, cut into arbitrary pieces, add to the broth and cook without a lid for 10 minutes. Add black peppercorns, cook for another 10 minutes. Remove from heat and strain broth. Wash green onions and cut diagonally. Wash the pepper and cut into thin strips, removing the core. Peel and chop the garlic. Wash the corn and cut into 1 cm thick circles.
Cut the remaining chicken into small pieces and fry in hot oil for 7 minutes, stirring constantly. Add green onions, peppers and garlic, fry for another 2-3 minutes.
Transfer the chicken and vegetables from the pan to the saucepan. Add corn, pour in broth and bring to a boil over high heat.
Add the grated ginger, reduce heat and cook for 10 minutes. without cover.

Pour in 2 teaspoon. water in a bowl with starch and sugar. Stir until sugar is completely dissolved.
Add gently to soup, stir and bring to a boil. Wash the cherry tomatoes, cut into 4 parts, removing the stalk. Add to soup. Season with salt and pepper to taste. Cook for another 2-3 minutes.
Whisk the egg white lightly in a bowl and pour it into the soup in a thin stream. Stir quickly and remove from heat immediately. Serve hot, seasoned with cilantro or parsley.
Bon appetit!
Also Like
Comments for "Chicken Soup with Corn"