Chocolate Biscotti with Hazelnuts and Cranberries
by Editorial Staff
There are a great many variations of Italian biscotti cookies. A variety of fillers and natural flavors are added to baked goods. My option is hazelnuts and cranberries with spices.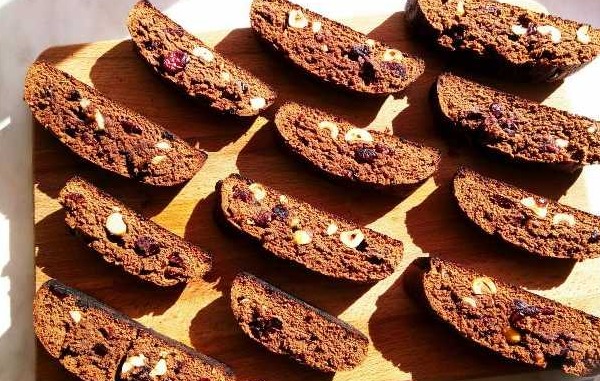 Ingredients
Butter – 60 g
Eggs – 2 pcs.
Sugar – 160 g
Flour – 200 g
Baking powder – 1 teaspoon
Cocoa without sugar – 30 g
Dried cranberries – 50 g
Hazelnuts – 70 g
Cinnamon to taste
Nutmeg – to taste
Vanillin – 1 pinch
Salt – 1 pinch
Directions
Melt the butter and cool.
Add sugar to butter and beat until dissolved.
Add eggs and salt.
Combine flour, cocoa, baking powder and spices in a separate bowl.
Sift dry ingredients into butter-egg mass.
Add cranberries and hazelnuts, cut in half or smaller.
Knead the dough. Put it in the refrigerator for half an hour.
Cover a baking sheet with parchment and preheat the oven to 180 degrees.
Form a loaf from the dough. Bake for 30 minutes. The cooking time depends on the specific oven, so it is better to check the dough with a toothpick – it must be dry.
Remove the workpiece and allow to cool slightly. Then cut into slices 1.5-2 cm thick.
Place back on a baking sheet and bake the Italian biscotti for another 7-10 minutes.
Bon Appetit!
Also Like
Comments for "Chocolate Biscotti with Hazelnuts and Cranberries"