Coconut Banana Smoothie with Ginger
by Editorial Staff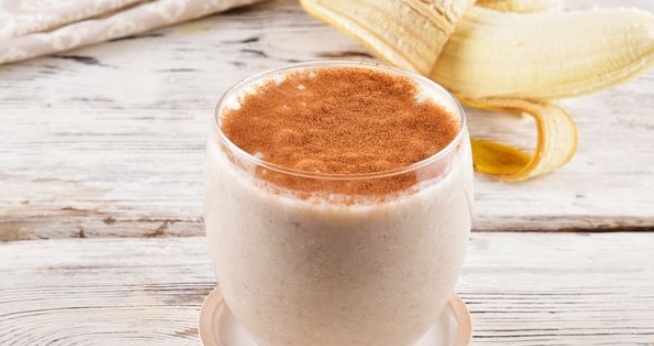 This rich smoothie with milk, coconut, banana, and ginger has a very unusual spicy taste and creamy texture. Such an interesting drink perfectly copes with the feeling of hunger and gives an energy boost in the morning!
Cook: 4 hours 10 min.
Servings: 2
Ingredients
Milk – 300 ml
Banana – 1 pc.
Coconut flakes – 20-40 g
Fresh ginger – 1 slice
Ground cardamom – 1/3 teaspoon
Ground cinnamon (for serving) – 1/3 teaspoon
Directions
Peel the banana, cut into slices, and send it to the freezer for at least 4 hours (or overnight).
Pour coconut flakes into a deep bowl.
Pour milk into a saucepan or saucepan, put on medium heat, and bring to a boil.
Fill the coconut with hot milk. We mix.
Cover the bowl with the coconut flakes and milk with a plate or lid and leave for 1-2 hours (or overnight).
If small grains of coconut flakes in the finished smoothie are undesirable, filter the cooled coconut-milk mixture through a sieve and use only aromatic milk. The remaining coconut in the sieve can be used for another dish. Or skip this step and do not separate the milk from the coconut flakes.
Peel and rub the ginger on a fine grater.
In a blender bowl, combine the milk-coconut mixture (or aromatic milk), frozen banana, grated ginger, and ground cardamom.
Beat well until smooth.
Pour the finished smoothie into glasses and sprinkle with ground cinnamon. Bon Appetit!
Also Like
Comments for "Coconut Banana Smoothie with Ginger"