Curry Tiger Prawn Rice
by Editorial Staff
Delicious seafood basmati recipe for the perfect dinner.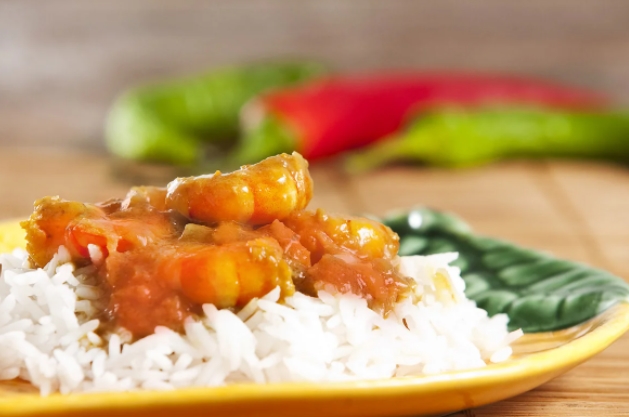 Ingredients
700 g tiger prawns
3 red onions
2 cups basmati
4 cups boiling water
2 tablespoon olive oil
1 red bell pepper
1 green bell pepper
Salt to taste
1 tablespoon curry
1 tablespoon turmeric
1 tablespoon coriander
Half tablespoon ground chili
2-3 teeth garlic
4.5 cm ginger root
3.5 tablespoon chili sauce
300 ml. coconut milk
sunflower oil
Directions
Prepare the curry sauce: Mix curry, coriander, turmeric, and chili powder. Pour in some water to make a paste. Fry grated ginger root and finely chopped garlic in sunflower oil – 3 minutes. Add the pasta to the pan. Fry for another 3 minutes. Then add chili sauce, coconut milk, and salt. Reduce heat to low and simmer for 10 minutes.
Peel the tiger prawns, fry until tender. We shift the finished shrimp into a skillet with the sauce.
Chop the onion and fry in oil until golden brown. We send half of the onion to the shrimp. Add finely chopped bell pepper to the other half, salt to taste. Fry until pepper is soft. Cooking basmati. To make the rice crumbly, rinse it in running water 10-12 times. Add olive oil to it, 2 tablespoons of cooked curry sauce. Fill with boiling water. Cook until tender.
Add fried peppers and onions to the boiled basmati.
Put the rice on a portioned plate, top with curry sauce with tiger prawns.
Enjoy!
Also Like
Comments for "Curry Tiger Prawn Rice"