Curry with Rice, Peas and Mushrooms
by Editorial Staff
Curry is a dish of Indian cuisine. A thick, spicy gravy that stews vegetables, legumes or meat. Curry with rice, peas and mushrooms is more of a successful experiment that ended up in my cookbook.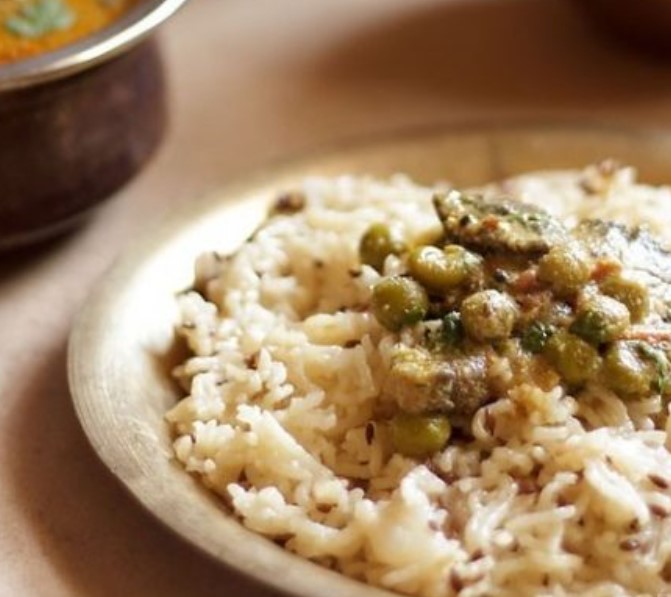 Cook: 50 mins
Servings: 6
Ingredients
Mushrooms – 250 Grams (champignons)
Green Peas – 1 Cup (fresh or frozen)
Ginger – 1 Teaspoon (fresh)
Onion – 1 Piece
Tomato – 1 Piece
Coconut Flakes – 1/2 Cup
Nuts – 8 Pieces (cashews)
Garlic – 3 Cloves
Red Pepper – 1 Pinch (ground)
Turmeric – 1/2 Teaspoon
Coriander – 1 Teaspoon
Fenugreek Seeds – 1/2 Teaspoon
Mustard seeds – 1/2 Teaspoon
Curry leaves – 3 Pieces (or curry seasoning 2 teaspoon)
Water – 2 Glasses
Rice – 400 Grams (boiled)
Directions
Rinse and dry the peas. If you have frozen, then first remove it from the freezer.

Fry the mushrooms in vegetable oil until golden brown.
Peel the garlic and chop finely. Add fenugreek and mustard seeds. Fry it in the same pan as the mushrooms.
Peel the onion, chop finely and add to the garlic.
Peel the ginger, finely grate and add to the pan.
When the onions are browned, add the spices and chopped cashews. Fry for a few minutes.
Wash the tomato, cut into small cubes and send to the pan.
Add coconut and curry leaves. Cook for a few more minutes.
Fill everything with water and leave to simmer for 15-20 minutes.
Add stir-fried mushrooms and peas. Mix everything well.

Put the boiled rice on a plate and pour over the curry. Serve to the table.
Bon appetit!
Also Like
Comments for "Curry with Rice, Peas and Mushrooms"