Dried Duck Breast
by Editorial Staff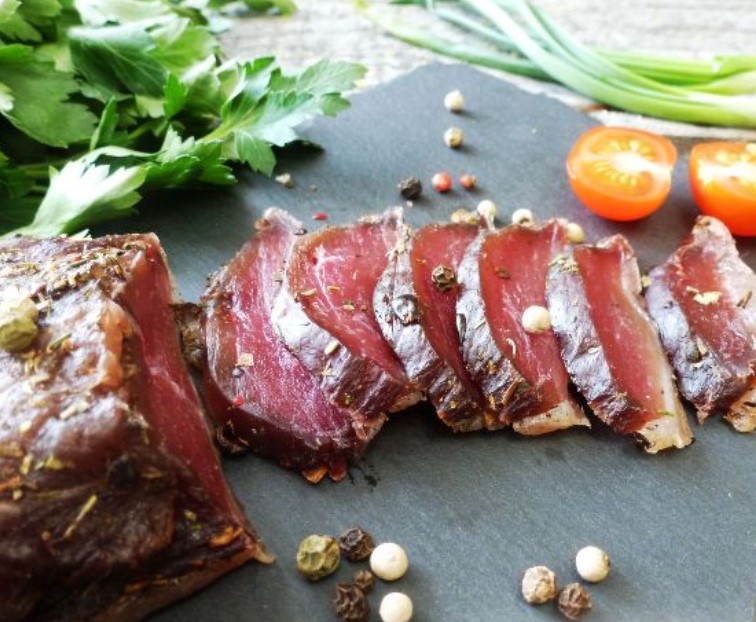 Dried duck breast is a real delicacy. Treat your friends to this delicious, aromatic and spectacular snack. You can cook it yourself, you just have to be patient, because it dried up to 2 weeks.
Ingredients
Duck breast with skin – 170 g
Salt (coarse crystalline) – 1 tablespoon
Sugar – 0.5 teaspoon
Cognac – 50 ml
Cloves – 2 pcs.
Allspice – 5 pcs.
Dry rosemary – 0.5 teaspoon
Juniper – 5 pcs.
Provencal herbs – 0.5 teaspoon
Directions
Prepare products for drying duck breast according to the indicated list.
Mash allspice, cloves and juniper with a crush into large crumbs. Mix with dry rosemary and Provencal herbs.
Rinse the duck breast (fillet) well and pat dry with a paper towel. Make criss-cross cuts on the skin, trying not to cut through the meat, but only the layer of fat under it.

Prepare brandy, salt, sugar and spices.
Mix salt, sugar and spices and add cognac to them.
Smear the duck breast on all sides with the fragrant mixture, rubbing into the skin and meat.
Place in a container and leave for 6-8 hours, depending on the size of the breast.
After the time has elapsed, remove the meat and shake off the salt grains that have not dissolved. Hang the breast over the sink to drain the moisture and dry it slightly.
Then wrap the breast in a cotton cloth and leave to dry in the refrigerator. In the first 2-3 days, check the meat, if the fabric is very wet, then change it.

Meat can be tasted after 7-10 days. But the longer the duck meat is dried, the tastier it becomes.
Bon Appetit!
Also Like
Comments for "Dried Duck Breast"