If you are not yet familiar with this recipe for chicken soup with rice and cream cheese, then hurry to the kitchen.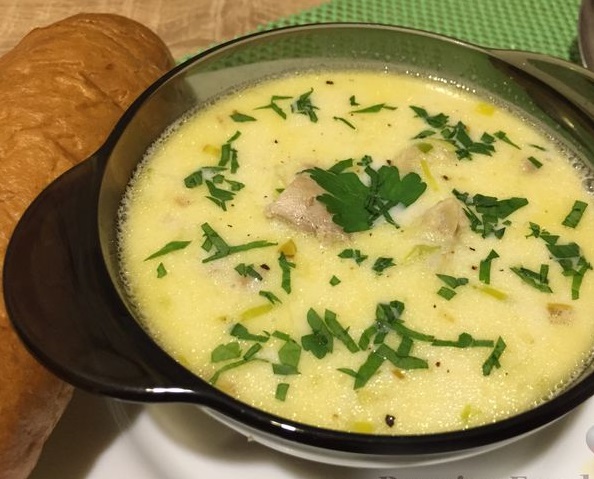 Ingredients
Chicken (thigh) – 1 pc. (250 g)
or chicken fillet – 200 g
Rice – 50 g
Leeks – 100 g
Processed cheese – 100 g
Parsley – 3-4 sprigs
Butter – 20 g
Water – 1 l
Ground black pepper – 1 pinch (to taste)
Salt – 1 teaspoon (to taste)
Directions
Prepare food.
Wash the chicken meat (I have a thigh) and pour cold water into a saucepan. Put on high heat and bring water to a boil. Remove foam, reduce heat to low, and cook chicken for 30 minutes.
Cut the leek into half rings.
Remove chicken meat from the finished broth, remove the skin, and remove the bone (if any).
Return the pot of broth to the fire.
Bring the stock to a boil, add the washed rice, and cook for 10 minutes.
Fry the leeks in a skillet with butter until soft (5 minutes over medium heat).
Cut the boiled chicken into small pieces and add to the pan to the onion. Fry over medium heat for 5 minutes.
Put the fried meat and onions in the broth with rice. Separate the parsley stems from the leaves. Tie the parsley stalks together and also send them to the broth.
Season with salt, pepper and cook for another 5 minutes over low heat.
Grate cheese on a coarse grater.
Remove the parsley stalks from the soup, add the grated cheese, and stir.
Keep on fire for another 1 minute, until the cheese is melted.
Pour ready-made cheese soup with chicken, rice, and leeks into bowls and serve, garnished with parsley leaves.
Sprinkle chopped parsley on the soup before serving, if desired.
Bon Appetit!