Fennel Baked with Tomatoes and Olives
by Editorial Staff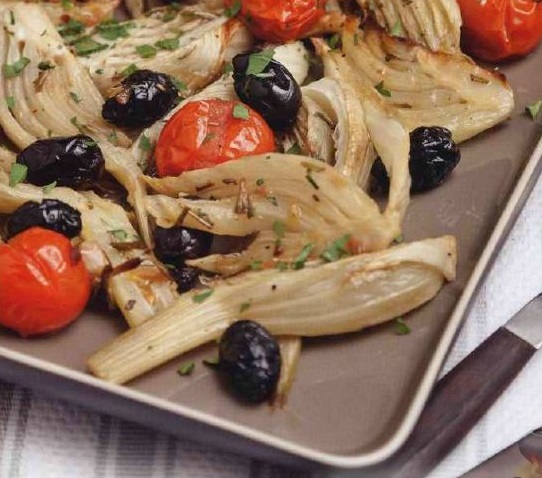 Fennel is baked with tomatoes and olives in the oven and served as an appetizer or side dish.
Ingredients
Fennel (cut into slices) – 4 pcs.
Olive oil – 2 tbsp
Cherry tomatoes – 12 pcs.
Pitted black olives – 16 pcs.
Dry white wine – 0.5 cups
Garlic (chopped) – 2 cloves
Fresh rosemary (chopped) – 2 teaspoon.
Fresh parsley (chopped) – 2 tbsp
Salt to taste
Ground black pepper – to taste
Directions
Step by step photo recipe for fennel baked with tomatoes and olives
Turn on the oven to preheat to 200 degrees.
Fold the fennel in a deep baking sheet in one layer.
In a separate bowl, mix together olive oil, 2 tbsp of wine, garlic and rosemary. Pour this mixture over the fennel, sprinkle with salt and pepper, mix and spread the fennel again in one layer.
Place the baking sheet in a preheated oven for 15-20 minutes.
Then put the tomatoes and olives on a baking sheet, pour over the remaining wine and place in the oven again for 8-10 minutes.
Serve the baked vegetables immediately, sprinkled with parsley.
Also Like
Comments for "Fennel Baked with Tomatoes and Olives"