Flank Steak Marinated in Worcester Sauce on a Charcoal Grill
by Editorial Staff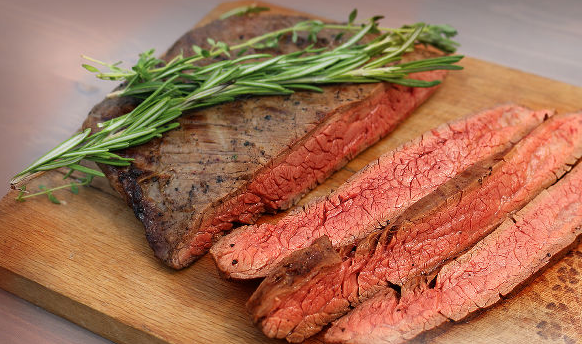 Here's a recipe for a medium-rare flank steak, marinated in Worcester sauce, on a charcoal grill.
Ingredients
Flank steak – 2 pcs.
Worcester sauce – 4 teaspoon
Olive oil – 1.5 tablespoon Spoons
Fresh rosemary – 3 sprigs
Fresh thyme – 4 sprigs
Freshly ground pepper – 4 g (to taste)
Salt – 4 g (to taste)
How to grill flank steak on a charcoal grill:
Directions
We take out the steaks from the packaging and with the help of paper towels we rid them of excess moisture, it is absolutely useless when frying the steaks! Transfer the steaks to the board. Salt and pepper. Add some olive oil and distribute it evenly over the entire surface of the steak. We repeat the same procedure on the other side of the steaks.
Now on to the main highlight of the recipe – Worcestershire sauce! Apply it to both steaks, rubbing lightly. Turn the steaks over and repeat the procedure. We remove the steaks to marinate for half an hour.

Place the steaks on the charcoal grill and fry for 3 minutes on each side. My goal is medium pep (medium rare), so the temperature inside the steak should be around 55 degrees.
Flip the steaks over and grill for another 3 minutes. Use a cooking thermo to measure the temperature inside the steak.

Remove steaks from heat and place on foil. Add rosemary and thyme. Wrap the steaks in foil and let them rest for 5 minutes. It is at this time that the temperature inside the steaks will reach the desired 55 degrees.
Enjoy your meal!
Also Like
Comments for "Flank Steak Marinated in Worcester Sauce on a Charcoal Grill"