Florentine Eggs with Spinach
by Editorial Staff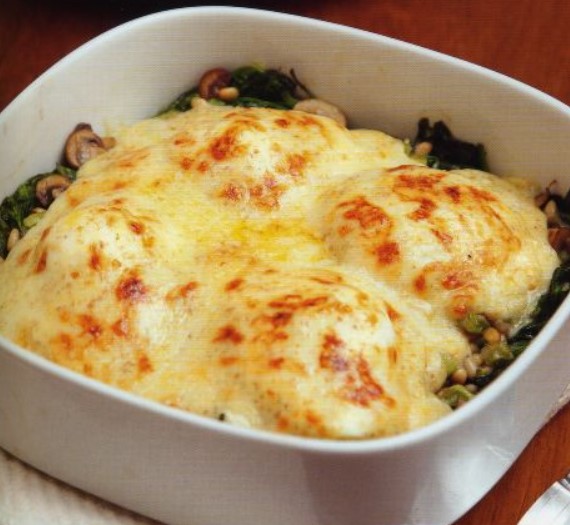 If you're bored with everyday food, prepare Florentine eggs for breakfast. This recipe is used to prepare eggs with spinach, mushrooms, pine nuts.
Ingredients
Eggs – 4 pcs.
Spinach leaves – 450 g
Champignons – 75-100 g
Pine nuts – 1/3 cup
Green onions – 3 pcs.
Butter – 4 tbsp
Flour – 3 tbsp
Milk – 1.25 cups
Grated cheddar cheese – 0.75 cups
English mustard – 1 teaspoon
Salt to taste
Ground black pepper – to taste
Directions
Preheat the oven to 190 degrees. Boil spinach in a saucepan, covered for 2-3 minutes (until soft). Squeeze to remove all moisture. Then cut and place in a greased ovenproof dish.
Cut the champignons into slices. Fry pine nuts. Chop the green onion. In a small saucepan over medium heat, heat 1 tablespoon. spoon of oil. Put the mushrooms, cook for 2 minutes, stirring occasionally. Add pine nuts and onion and cook for 2 minutes. Remove from heat, season with salt and pepper. Place the mixture on a layer of spinach.
Fill the pan with water and bring to a boil. Reduce heat so that water only boils slightly. Gently break the egg into a cup and release it into the water. Add all eggs and cook for 4-5 minutes. Carefully remove the eggs and place over the vegetable mixture.

Melt the remaining butter in a separate saucepan, add flour. Cook for 2 minutes, then remove from heat and gradually add warm milk. Return the saucepan to the fire again. Stirring continuously, bring to a boil. Add mustard, then add 0.5 cups of cheese. Continue stirring until the cheese is melted. Season with salt and pepper. Pour the sauce over the eggs so that they are evenly covered. Sprinkle with the remaining cheese. Bake in the oven for 20-25 minutes. Serve the Florentine eggs immediately.
Bon appetit!
Also Like
Comments for "Florentine Eggs with Spinach"