Fruit Salad with Avocado and Yogurt Dressing
by Editorial Staff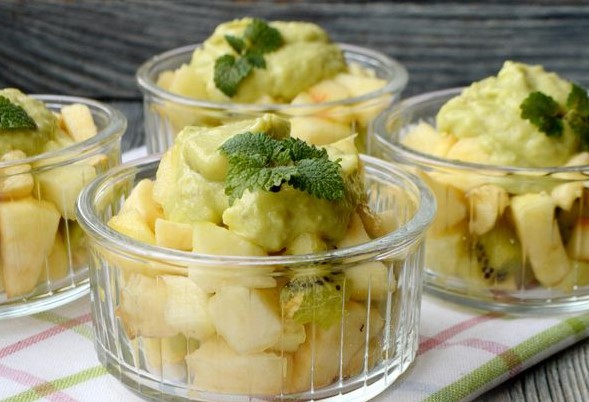 Making a fruit salad is easy: peel the pears, cut them into slices and you're done! Well, the dressing will help give the fruit salad an interesting taste. In this case, it's a dressing made from avocado, unsweetened yogurt, and powdered sugar. We tried such an original filling for the first time. Now we will cook fruit salads only with her!
Cook: 15 minutes
Servings: 4
Ingredients
Pear – 1 pc. (200 g)
Apple – 1 pc. (150 g)
Banana – 1 pc. (150 g)
Kiwi – 2 pcs. (80 g)
Lemon – 1/4 pc.
Fresh mint for decoration – a few leaves

For refueling:

Ripe avocado – 1 pc. (100 g)
Unsweetened yogurt – 3 tablespoon.
Powdered sugar – 1 tablespoon.
Directions
Peel the kiwi and cut into medium cubes.
Peel the banana and also cut it into cubes.
Remove the peel from the apples and remove the core with seeds. Cut the apples into cubes and sprinkle with lemon juice to prevent browning.
Peel the pears and also cut them into cubes.
Combine all sliced ​​fruits in a deep bowl.

For the dressing, peel the avocado and remove the pit. Chop the avocado pulp at random.
Place the avocado, icing sugar, and yogurt in a blender bowl.
Grind all components of the dressing into a homogeneous thick mass.

Stir the fruits with a spoon and drizzle some more lemon juice.
Divide the fruit salad into bowls, glasses, or plates.

Place 1 tablespoon each of the avocado yogurt dressing on top of the fruit.
Decorate the salad with fresh mint leaves and serve.

Light sweet and sour fruit pulp and delicate dressing with a nut-creamy taste go well together!
A great treat for the holiday and more!
Also Like
Comments for "Fruit Salad with Avocado and Yogurt Dressing"