Latvian Beetroot Soup with Meatballs
by Editorial Staff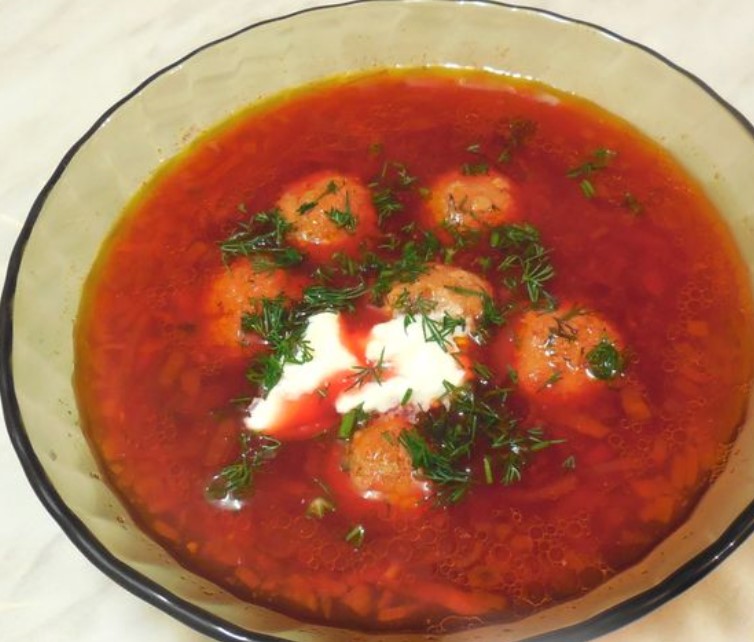 Previously, for me, only borscht could be the first beetroot dish. Latvian beetroot soup with meatballs is my discovery, which the whole family enjoyed.
Cook: 1 hour
Servings: 5
Ingredients
Minced meat (pork) – 400 g
Beets – 2 pcs. (500 g)
Carrots – 1 pc.
Bulb onions – 2 pcs.
Garlic – 3 cloves
Tomato paste – 1 tbsp
Fresh dill – 2-3 branches
Chicken egg – 1 pc.
Table vinegar – 1 tbsp
Vegetable oil – 3 tbsp
Black peppercorns – 3-5 pcs.
Bay leaf – 2 pcs.
Salt to taste
Ground black pepper – to taste
Water – 2 l
Sour cream (for serving) – to taste
Fresh greens (for serving) – to taste
Directions
We prepare the necessary products. First of all, cook the beets (after boiling the water for about 40 minutes over low heat). Pour 2 liters of water into the second pan, put on fire.

Put the minced meat in a deep bowl.
Add the egg to the minced meat.
Peel the onion and three on a fine grater, add to the minced meat.
Finely chop the dill, add to the minced meat. Salt, pepper.
Mix the minced meat with all the added ingredients.
Form the meatballs with wet hands.

In a saucepan with boiling water, throw a few peppercorns, bay leaves and meatballs (one piece at a time). Leave to simmer over medium heat. Carefully remove the foam with a slotted spoon.
Rub the carrots on a coarse grater.
Chop the onion finely.
Fry the onions with carrots in vegetable oil.
Add the frying to the saucepan with the meatballs.
We clean the boiled beets, three on a coarse grater.
Add the beets to the soup pot.
Three garlic on a grater. Add garlic and tomato paste to the beetroot soup.
Salt and pepper to taste and leave the soup with meatballs to simmer over low heat (covered) for 20 minutes.

Turn off the heat and add 1 tablespoon to the beet soup. a spoonful of vinegar (to preserve the color of the dish).
Serve the soup well with sour cream and chopped fresh herbs. Latvian beetroot soup with meatballs will help diversify your first courses and get to the Baltics for an hour without leaving your home. Enjoy your meal!
Also Like
Comments for "Latvian Beetroot Soup with Meatballs"