Milkshake with Strawberry, Marshmallow and Banana
by Editorial Staff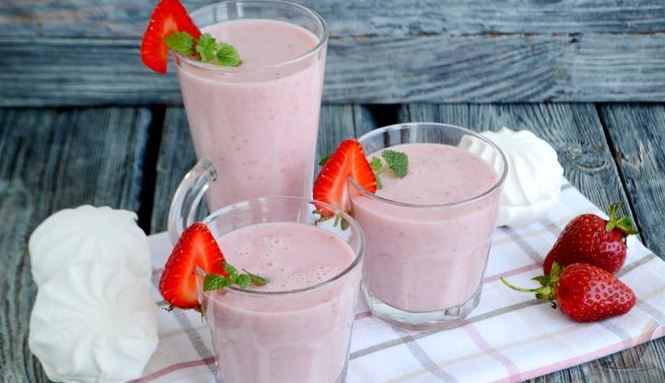 Did you know that if you add marshmallows to a fruit milkshake, you get a delicious smoothie: sweet, aromatic, delicate, and slightly airy? A marshmallow cocktail with strawberries and banana can become a full-fledged dessert, a light snack, or a beautiful decoration for a buffet table, because it is prepared very quickly, and the taste of such a drink is simply great!
Cook: 5 minutes
Servings: 4
Ingredients
Milk – 400 ml
Strawberry – 150 g
Marshmallow – 2 pcs. (70-100 g)
Large banana – 1 pc.
Directions
Peel the banana and remove the green tails from the strawberries. Chop the banana and strawberries into large pieces, setting aside 2-3 strawberries or banana slices for serving if desired. Cut the marshmallows into large pieces.
Combine banana, strawberry, and marshmallow in a blender bowl. Since I have a small blender bowl, I divided the fruit and marshmallows in half and chopped them in two passes. Grind banana, strawberries, and marshmallows on a high-speed blender until the marshmallows are completely dissolved. This will make a thick mousse.

If you don't plan to serve right away, put a lid on the blender bowl and refrigerate for no longer than two hours. Pour the chilled milk into a large glass. Add the sweet fruity marshmallow mousse to the milk and stir. If desired, for greater homogeneity, you can punch the cocktail with a hand blender.
Pour the finished cold strawberry milkshake into glasses. Garnish the milkshake glasses with strawberries or banana if desired and serve.

Milkshake with strawberries, marshmallows, and banana is ready. This is an incredibly delicious drink! The most delicate, sweet aromatic drink, full of calcium and vitamins, to your table!
Bon Appetit!
Also Like
Comments for "Milkshake with Strawberry, Marshmallow and Banana"