Milkshake with Strawberries and Mint
by Editorial Staff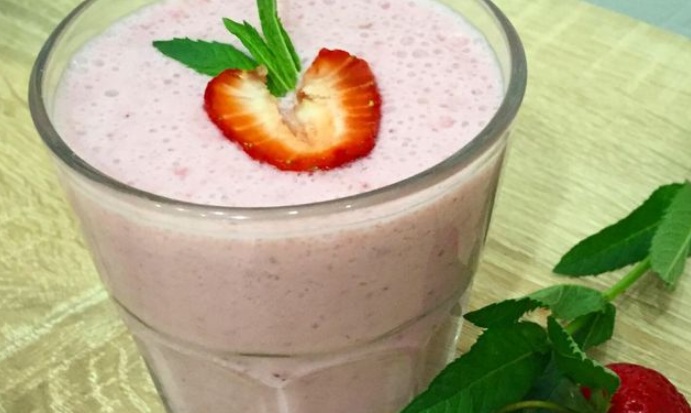 A very tasty and nutritious drink that neither children nor adults will refuse – a milkshake with strawberries and mint.
Ingredients
Strawberry – 250 g
Fresh mint – 3 sprigs
Milk – 0.5 l
Ice cream – 200 g
Sugar – 1 tbsp
Directions
Tear off the leaves from the mint sprigs and send them to the blender bowl.
Add sugar to the mint.
Grind the mint until almost smooth, whisking for 3 minutes (time depends on the power of the blender). Let the technique rest periodically (I beat it in pulses for 10-15 seconds).
Pour 200 ml of milk into chopped mint and leave for 20 minutes.
Strain the milk with mint through a sieve.
Rinse the strawberries, cut off the tails.
Place the strawberries in a blender bowl.
Chop the strawberries in puree for about 1.5 minutes (also in pulses).
Add ice cream to the strawberry puree.
Pour mint milk and the remaining 300 ml of milk there. Whisk the strawberry-mint milkshake for another 3-5 minutes, until a thick foam appears. Remember to unplug the blender periodically.
Strawberry mint cocktail is ready to serve.
Also Like
Comments for "Milkshake with Strawberries and Mint"