Milkshake with Strawberry and Honey
by Editorial Staff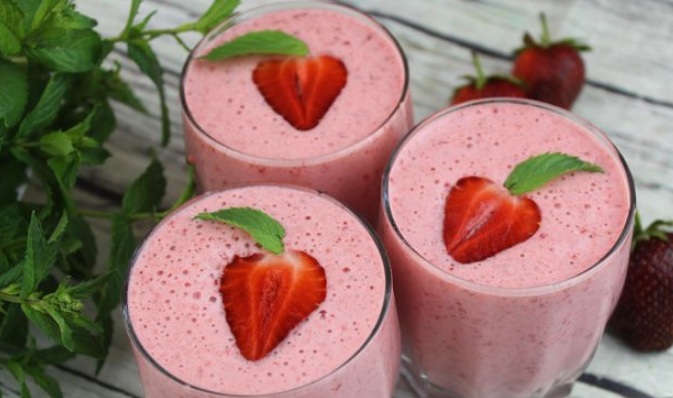 A healthy cooling drink with only milk, strawberries, honey, and ice cubes. This milkshake with strawberries and honey is equally appropriate for breakfast and as a snack – it perfectly quenches thirst and hunger and also cheers up with its inviting pink color and delicate taste.
Ingredients
Strawberries, fresh or frozen – 300 g + for decoration
Milk – 300 ml
Liquid honey – 2 teaspoon
Ice (if necessary) – 6 cubes
Fresh mint (for decoration) – 1 sprig
Directions
Measure out the required amount of strawberries, milk, and honey. You will also need ice, but you do not need to add it if you are using frozen strawberries.
Rinse fresh strawberries thoroughly and remove sepals. If the strawberries are frozen, then, as a rule, they no longer need pre-processing. And you don't need to defrost it before making a cocktail.
Put the strawberries in a blender bowl, add honey.
Send ice cubes there (if you have fresh strawberries).
Pour in milk.
Grind the contents of the blender bowl at high speed for about 2-3 minutes, until smooth. It can take longer if you don't have a powerful blender.
Pour the strawberry-honey milkshake into glasses, garnish with strawberry slices and fresh mint leaves.
Serve the cocktail to the table immediately after preparation. Bon Appetit!
Also Like
Comments for "Milkshake with Strawberry and Honey"