Mini Cheesecakes
by Editorial Staff
What is cheesecake? Basically it's a cheese cream cake. For convenience, I decided to serve cheesecake in portions to each guest. Mini cheesecakes look spectacular on any festive table. Look!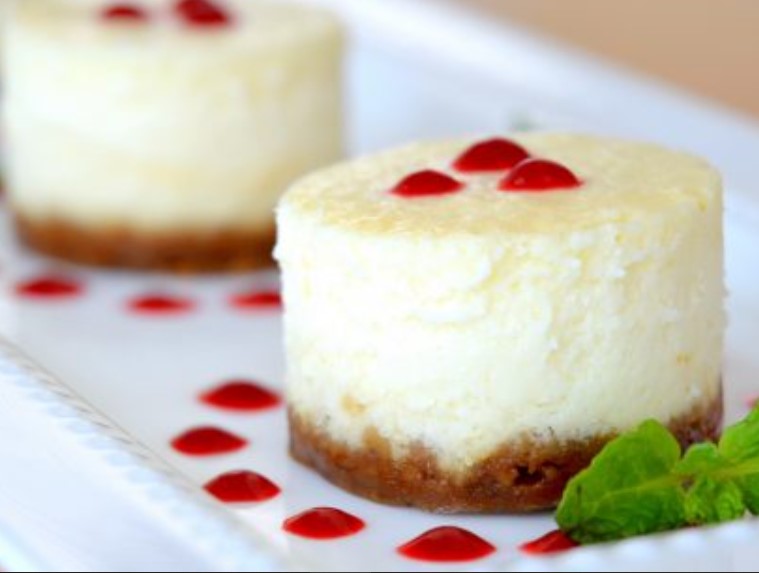 Cook: 3 hour
Servings: 8
Ingredients
Sugar cookies – 200 grams
Butter – 3 Tbsp. spoons
Cream cheese – 220 Gram
Sugar – 150 Grams
Sour cream – 100 grams
Milk – 50 Milliliters
Egg – 2 Pieces
Vanillin – 1.5 Teaspoons
Wheat flour – 2 tbsp
Directions
Mash cookies with melted butter into crumbs. Then flatten the crumb into a rectangular shape lined with parchment. Put the base in the oven for 8 minutes at 180 degrees.
Whisk sugar and cream cheese in a food processor. Then add eggs, sour cream, milk and vanillin. Continue whisking. Add flour at the end. Stir again. Spread the cream over the cooled base. Send the product to the oven.
Bake the cheesecake for 50 minutes. It is best to place the dish in a large one with boiling water to prevent bubbles from forming on the surface of your dessert. Then cool the baked goods completely in the refrigerator and cut out the portioned cakes with a round baking dish.

Place the mini cheesecakes on a serving plate and garnish to taste.
Enjoy your tea!
Also Like
Comments for "Mini Cheesecakes"