Microwave mini Cheesecakes
by Editorial Staff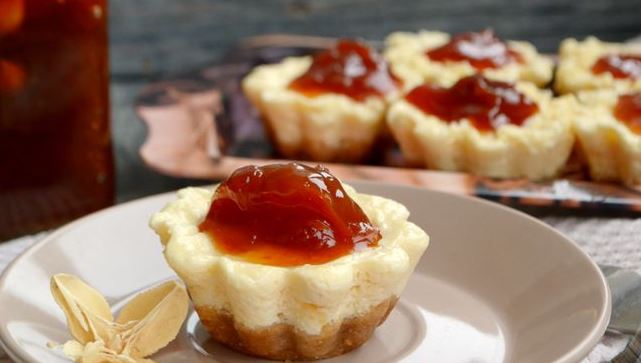 There are a lot of cheesecake recipes online, cooked in the microwave in just three minutes. Today I tried to bake mini cheesecakes in 10 minutes. Such a delicious cottage cheese dessert is perfect for aromatic coffee or tea.
Servings: 10
Ingredients
Cottage cheese – 300 g
Cookies – 100 g
Sugar – 70 g
Sour cream – 2 tbsp
Egg – 1 pc.
Butter – 40 g
Vanillin – on the tip of a knife
For the filling (optional):
Directions
Transfer the cookies to a blender bowl.

Melt the butter. Crush the cookies into crumbs. Add melted butter.
Whisk the butter cookies until they are wet.
Place a teaspoon of chopped cookies on the bottom of the silicone muffin tins, tamp with the back of the spoon. Preheat in the microwave at full power (I have 800 W) for 1 minute.
For the curd layer, combine cottage cheese, egg, sour cream, sugar, and vanillin in a bowl.
Grind with a blender until creamy.
Put 2-3 teaspoons of curd mass in each cell on a layer of cookies and send to the microwave for 2 minutes (do not change the power). Then after half a minute, without opening the microwave, turn it on for another 1 minute.

Remove the mini cheesecake tins from the microwave. Cool slightly at room temperature and send to stabilize in the refrigerator for 2 hours or in the freezer for 30 minutes.
Free the mini cheesecakes from the mold. If desired, add 1 teaspoon of jam or your favorite jam to each cake. I used apricot.
Microwave mini cheesecakes are ready! Such a dessert is even worthy of a festive table. Have a nice and sweet tea!
Also Like
Comments for "Microwave mini Cheesecakes"