Cheesecake with Lime, Microwave
by Editorial Staff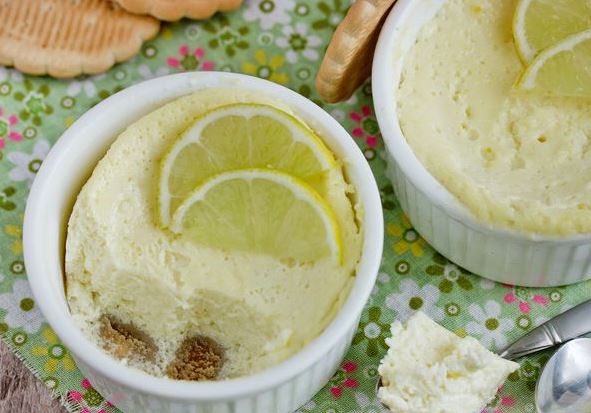 Cheesecake with a bright lime flavor and velvety structure, cooked in a microwave oven, is a dessert that will leave no one indifferent. Preparing such a cheesecake is elementary. Serving in portions in frames or other small tins is the most convenient for both cooking and serving.
Cook: 15 minutes
Servings: 2
Ingredients
Cookies (any – biscuit / shortbread / chocolate / cracker) – 4 pcs. (40 g)
Butter – 1 tbsp
Cream cheese – 80 g
Sour cream 20% fat – 80 g
Powdered sugar – 20 g
Chicken egg – 1 pc.
Lime – 0.5 pcs.
Directions
Prepare all the ingredients you need before making your lime cheesecake.

Grind the cookies into small crumbs. You can use a blender or any other kitchen grinder, or you can put the cookies in a bag and carefully walk over it with a rolling pin.
Melt the butter and combine it with the cookie crumbs. Stir until wet sand.
Divide the resulting mixture into small molds. I used 130 ml molds. This makes 2 servings of cheesecake. Squeeze the cookie crumbs with the bottom of the glass to tighten the bottom layer of the cheesecake.

For the curd, combine cream cheese, sour cream, powdered sugar, and an egg. Remove the zest of half of the lime with a fine grater and add to the cheese mass.
Mix the combined ingredients with a whisk until smooth and creamy.
Place the cheese mixture in the cookie cutters on a layer of cookies. Tap the tins on the table a couple of times to remove air bubbles from the curd.
Cook the cheesecakes in the microwave at a time at 800W for 90 seconds each. Cool prepared cheesecakes with lime and refrigerate for 2-3 hours.
Then garnish each cheesecake with a slice of lime (optional) and serve. Be sure to try this incredibly delicious and tender lime cheesecake, a recipe I recommend.
Bon Appetit!
Also Like
Comments for "Cheesecake with Lime, Microwave"