Cheesecake in the Microwave
by Editorial Staff
Homemade cheesecake in the microwave, which tastes as good as a restaurant dish.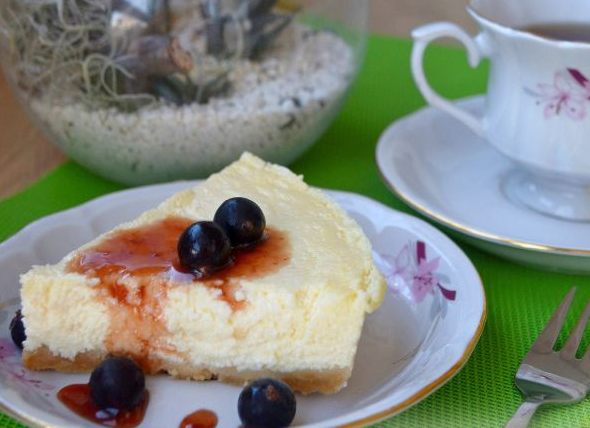 Cook: 3 hours 30 mins
Servings: 6
Ingredients
Cream cheese (ricotta) – 240 g
Sour cream 15% fat – 200 g
Eggs – 2 pcs.
Butter – 50 g
Powdered sugar – 100-120 g (or to taste)
Delicate classic crackers – 100 g
Orange (for juice) – 1 pc.
Directions
Prepare the food you need. I was making ricotta cheesecake. You can use mascarpone, any other cream cheese. Or even smooth, fatty homemade cottage cheese.
For the base of the cheesecake, grind the cookies any way you like. I broke crackers in a blender, you can put cookies in a bag and break them with a rolling pin, or grind them in a meat grinder.

Place the cookie crumbs in a microwave-safe glass dish and top with the microwave-melted butter.
Stir with a spoon so that the cookies are slightly soaked in oil, and with the back of a spoon, crush the base, spreading it over the entire mold. The layer thickness should be approximately 4-5 mm.
Toss the sour cream and cream cheese (ricotta) with a spoon.
Add powdered sugar. (According to the recipe, 100-120 g, but you can take even less, it turns out pretty sweet.)
Add eggs.

Beat everything with a mixer until smooth.
Pour in 3-4 tablespoon. tablespoons of freshly squeezed orange juice. If you prefer a brighter citrus flavor, you can add 1/2 teaspoon of chopped orange peel.
Pour the prepared mixture onto the cookie base in a mold.
Microwave the cheesecake for 4-5 minutes at maximum power (750-800W). (The recipe indicated a time of 2-3 minutes, but it seemed to me that this was not enough.)
As soon as you see bubbles in the center, turn it off. Remove the cheesecake pan from the microwave, cool it down, and use a sharp knife to push the sides of the cheesecake away from the pan.
Now be sure to let the cheesecake cool in the refrigerator for at least 3 hours. The filling will stabilize and your dessert will keep its shape, even if now it is slightly wobbling and "taken" on your finger.
Now you can slice and serve the cheesecake in portions to the table.
As you can see, the filling and base stick together well.
Garnish the cheesecake to taste – with berries, hot chocolate, jam.
Delicious, tender, and easy to prepare cheesecake is ready!
Bon Appetit!
Also Like
Comments for "Cheesecake in the Microwave"