Cheesecake
by Editorial Staff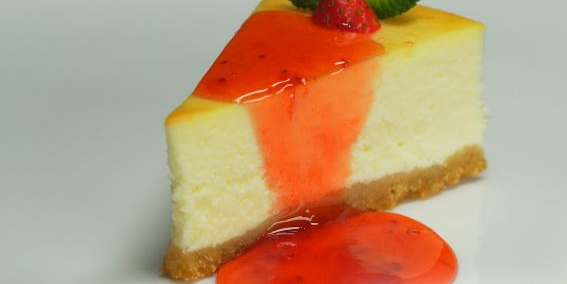 Cheesecake is one of the five most popular desserts in the world. And a real cheesecake is the pride of any restaurant that can't imagine its menu without this famous dessert. Let's make a cheesecake and you and I …
Servings: 4
Ingredients
Shortbread cookies – 120 g
Sugar – 120 g
Butter – 60 g + for greasing the mold
Cream cheese – 400 g
Sour cream 20% – 200 g
Cream 20% – 150 ml
Eggs – 2 pcs.
Corn starch – 2 tablespoons
Vanilla – 1 teaspoon
Lemon (lemon juice) – 1/4 pc.
Directions
Crush the cookies until smooth. You can use a blender.
Add melted butter and stir until smooth.
Place cooking paper on the bottom of the baking dish put the resulting dough from cookies and butter in the baking dish, distribute it evenly.

Grease the walls of the mold with oil and close the walls with a strip of baking paper.
Wrap the mold from the outside in food foil so that no water gets into the mold during baking.
Put the cream cheese in a bowl, add granulated sugar and stir until smooth. (If you are using a mixer, stir at the lowest speed.)
Add sour cream to a bowl of cream cheese and stir.
Then add cream and stir again.
Then add eggs and stir.
Add 2 tablespoons of cornstarch and stir again.
Then add vanillin, stir and add lemon juice, stir.
Please note that the order in which food is placed in the bowl must be observed!
Pour the resulting mass into a mold on a shortbread dough, let the cheesecake stand for 10 minutes, periodically tapping the mold so that air comes out of the cheese mass.

Pour water into a deep baking sheet and put a mold with cheesecake prepared for baking into it, water should cover 1/3 of the cheesecake mold.
Place in an oven preheated to 160 ° C and bake for 30 minutes.
Then lower the oven temperature to 140 ° C and bake for another 30 minutes.
Turn off the oven and leave the cheesecake in the oven for 1 hour.
Remove the cheesecake from the oven, let it cool and refrigerate for 6-8 hours.
The cheesecake is ready.
Bon Appetit!
Also Like
Comments for "Cheesecake"