Chocolate Cheesecake
by Editorial Staff
Cut into small squares, the chocolate cheesecake turns from pie into elegant brownies. For a classic cheesecake, the crust is made from cookie crumbs. In this cheesecake recipe, the chocolate base for the cream cheese layer is baked from shortcrust pastry with the addition of cocoa.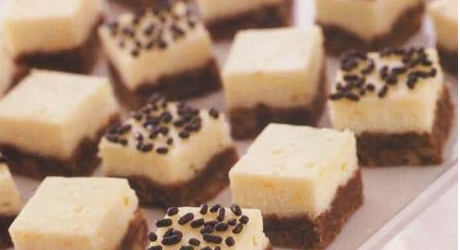 Ingredients
Flour – 1 glass
Sugar – ½ cup
Cocoa – 3 tbsp
Baking powder – 1 teaspoon.
Salt – ¼ teaspoon
Butter, chilled – ½ cup
Egg yolk – 1 pc.
Vanilla extract – 1 teaspoon
Walnuts, finely chopped – ½ cup
Cream cheese, softened – 220 g
Sugar – 1/3 cup
Sour cream – ½ cup
Flour – 1 tbsp
grated orange peel – 2 teaspoon.
Salt – ¼ teaspoon
Egg – 1 pc.
Egg white – 1 pc.
Vanilla extract – ½ teaspoon
Decorating chocolate (optional)
Directions
Cover the square (22 cm) with foil. Lubricate the foil with oil. Combine the first 5 ingredients in a large bowl. Chop the butter with this mixture so that the mass resembles small crumbs. Stir in the yolk, vanilla, and nuts.
Pour the dough evenly into the baking dish and press down. Bake in the oven at 175 degrees for 15 minutes.
Beat the cream cheese and sugar with a mixer. While whisking, add sour cream, flour, zest, and salt. Whisk in egg, egg white, and vanilla on low speed (only until smooth).
Pour the cheese mixture onto the warm chocolate base in a mold. Bake the chocolate cheesecake for 20-25 minutes. Cool on a wire rack for 1 hour. Sprinkle chocolate on the cake if you like. Place the chocolate cheesecake in the refrigerator until the next day.
Holding the foil on the cake, remove it from the tin, remove the foil and slice the chocolate cheesecake into square brownies.
Enjoy your tea!
Also Like
Comments for "Chocolate Cheesecake"