Chocolate Cheesecake
by Editorial Staff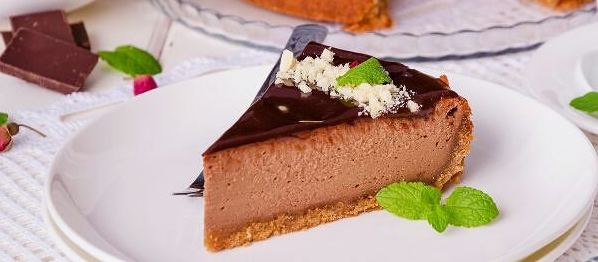 Chocolate cheesecake turns out to be incredibly tender, creamy, and moderately sweet! Chocolate lovers will appreciate its taste!
Cook: 1 hour 30 mins
Servings: 8
Ingredients
For the basics:
Cookies (jubilee, baked milk) – 250 g
Butter – 110 g
For filling:
Cream cheese – 550 g
Sugar – 150 g
Chocolate (dark) – 100 g
Eggs – 3 pcs.
Sour cream (from 20%) – 120 g
For glaze:
Chocolate – 100 g
Cream (33%) – 70 ml
Directions
Transfer the cookies to the bowl of the food processor and grind them into crumbs.
Melt the butter in a water bath or microwave.
Pour the batter over the crumb and stir.
Pour the butter crumbs into a mold (22-24 cm diameter) and line the bottom and sides with it. Tamp everything thoroughly.
Bake at 170-180 degrees for 10 minutes. Remove from oven and cool.

Let's prepare the filling. The ingredients for the filling should be at room temperature. Combine cream cheese at room temperature with sugar and beat briefly with a mixer at low speed.
Add 3 eggs one by one to the curd, stirring thoroughly after each.
Add sour cream and stir until smooth.
Melt dark chocolate in a water bath or in the microwave.
Add the chocolate to the curd and stir well.
Pour the filling into the already cooled base.
Place the chocolate cheesecake pan in the oven, place a baking sheet at the bottom, and pour boiling water into it. Bake the cheesecake at 150-160 degrees for about 1 hour. Let the finished cheesecake with chocolate first cool in a warm oven (just slightly open the door) for 1 hour, and then at room temperature.
For the glaze, bring the cream to a boil (I heated it in the microwave, but you can also do this in a saucepan on the stove).
Add chocolate to the hot cream. By the way, you can take both dark and milk chocolate, or a mixture of them, be guided by your taste.
And stir until smooth.
Cover the surface of the chilled chocolate cheesecake with icing and refrigerate for at least 4 hours, preferably overnight.
Garnish with a chocolate cheesecake if desired before serving.
Bon Appetit!
Also Like
Comments for "Chocolate Cheesecake"