Pickled Oyster Mushrooms
by Editorial Staff
A very quick and tasty snack – marinated oyster mushrooms. It is very easy to prepare, suitable for any festive table. I recommend preparing pickled mushrooms for the New Year. It will take a little time, and the result will please you.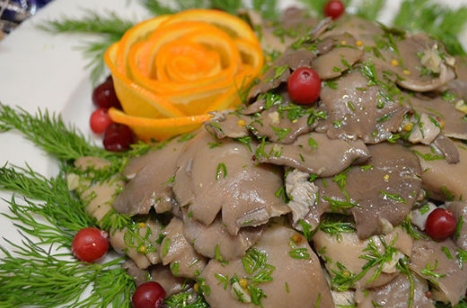 Ingredients
Oyster mushrooms – 1.2 kg
Water – 1.5 l
Salt – 1 tbsp
Sugar – 3 teaspoon
Apple cider vinegar – 50 ml
Peppercorns – 15 pcs.
Carnation – 4 pcs.
Bay leaf – 2 pcs.
Dill – 1 bunch
Garlic – 2 cloves
Olive oil – 2 tablespoon. L.
French mustard – 1 teaspoon
Directions
Pour water into a saucepan, bring to a boil. Cut oyster mushrooms from thick legs, closer to the cap. You don't need to cut into small pieces. Add salt, sugar, pepper, bay leaf, cloves, apple cider vinegar to boiling water.

Add oyster mushrooms, bring to a boil, cover and cook over low heat for 15-20 minutes.

Remove the oyster mushrooms with a slotted spoon, transfer to a colander, leave to cool for 30 minutes. In the meantime, excess moisture will drain.
Chop the garlic. Chop the dill finely. Mix oyster mushrooms with garlic and dill.
Add olive oil and mustard, stir.
Put the orange rose on the edge of the dish, dill sprigs in a circle.
Put mushrooms on the side of the rose, decorate with berries in a circle.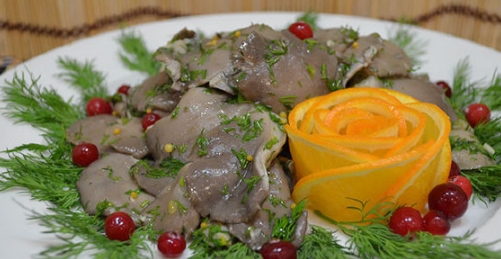 Bon Appetit!
Also Like
Comments for "Pickled Oyster Mushrooms"