Potato Pancakes
by Editorial Staff
Once again, I am amazed at how so many different dishes can be made from one product. The same goes for my favorite potatoes. And again she appears in an unusual way for me.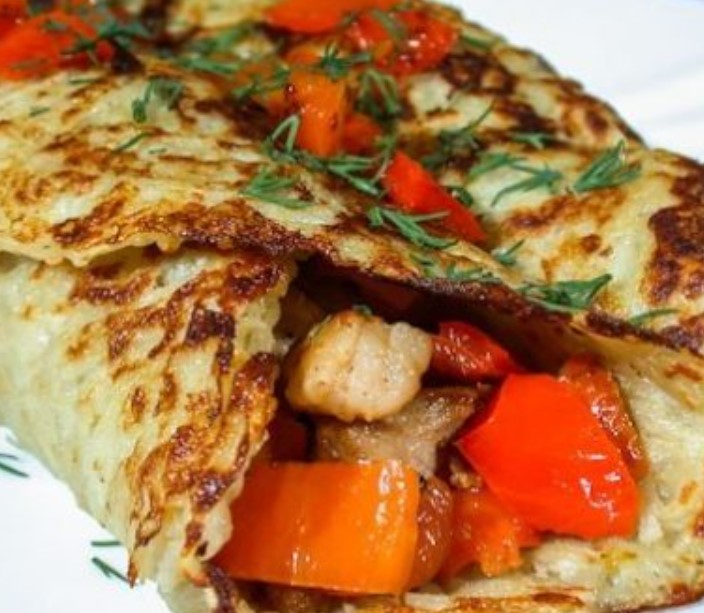 Cook: 40 mins
Servings: 5-6
Ingredients
Potatoes – 5 Pieces
Egg – 2 Pieces
Onions – 1 Piece
Sweet red pepper – 1 Piece
Cream 20% – 200 Milliliters
Flour – 6 Art. spoons
Chicken fillet – 300 Grams
Vegetable oil – 4 Tbsp. spoons
Salt – To taste
Ground black pepper – To taste
Dry thyme – To taste
Directions
Rinse the potatoes, peel and grate on a fine grater. Heat the cream a little and mix with the potatoes.
Next, add eggs to the mixture and gradually add flour. Stir so that there are no lumps. Season with salt and pepper to taste.

Heat oil in a frying pan, fry pancakes on both sides until golden brown.
Now prepare the filling. Cut the fillet into small pieces. Wash the pepper and chop it along with the peeled onions. Pan-fry all of these ingredients together, seasoning with salt and thyme.
Cook for 15 minutes.
Put a tablespoon of the filling in each pancake – and wrap. Serve while warm.
Bon Appetit!
Also Like
Comments for "Potato Pancakes"