Potato Salad with Smoked Chicken and Sour Cream Avocado Dressing
by Editorial Staff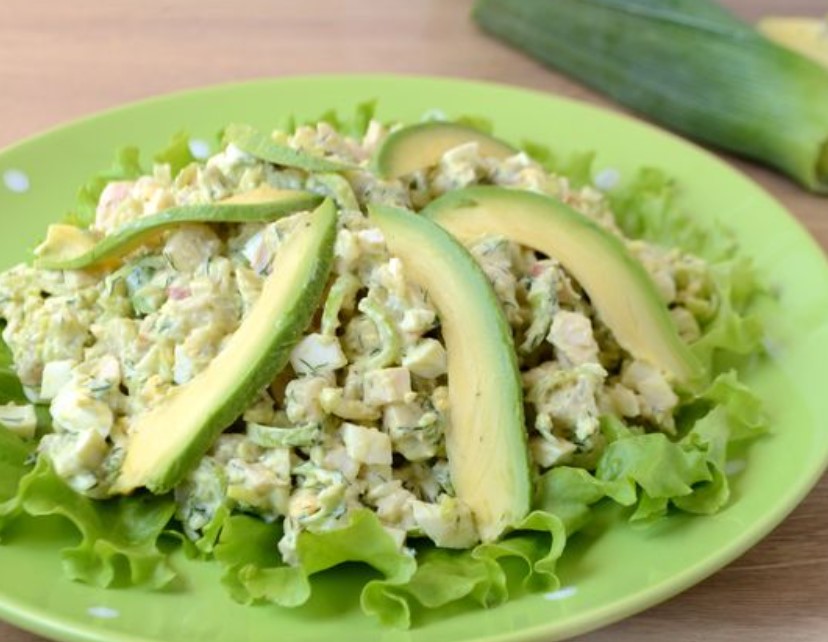 It's not for nothing that avocados are popular all over the world. The avocado pulp is rich in vitamins and minerals, it tastes like a mixture of butter with nuts and herbs. Avocado goes well with almost everything, and is especially tasty in salads. This smoked chicken salad with eggs, potatoes and leeks is dressed with sour cream mixed with avocado and dill. It turns out a very tasty snack!
Cook: 20 mins
Servings: 5
Ingredients
Smoked chicken breast – 200 g
Eggs – 2 pcs.
Potatoes – 2 pcs.
Leeks (without leaves) – 100 g
Garlic – 1-2 cloves
Avocado – 1 pc.
Sour cream – 3-4 tbsp
Fresh dill – 2-3 branches
Lettuce leaves (for serving) – 4-5 pcs.
Directions
Prepare all ingredients. Boil and cool eggs and potatoes in advance, then cooking the salad will not take you even 10 minutes.

Peel the boiled eggs and cut into cubes.
Cut the smoked chicken (I used skinned breast) into cubes the same size as the eggs. Remove bones if available.
Peel the boiled potatoes and cut into small cubes.
Cut the light part of the leek lengthwise and then crosswise into small thin half rings.
For dressing, peel the avocado, remove the pit. Cut half an avocado into random pieces. Finely chop the dill. Peel the cloves of garlic.
Combine avocado, dill and garlic in a blender bowl. Add sour cream and some salt. Grind until smooth.
The dressing is similar in consistency to mayonnaise, but much tastier and healthier.
Combine eggs, chicken, potatoes and leeks in a deep bowl. Add avocado dressing. Salt the salad if necessary, but try it first as smoked chicken can be salty.

Place green salad leaves on a plate, then seasoned salad with smoked chicken, potatoes, leeks. Cut the remaining avocado into slices and garnish with the chicken potato salad on top.
Serve chilled to the table.
Everyone, without exception, will like this bright-looking and tasteful meat salad with sour cream dressing with avocado!
Bon appetit!
Also Like
Comments for "Potato Salad with Smoked Chicken and Sour Cream Avocado Dressing"