Quiche with Salmon
by Editorial Staff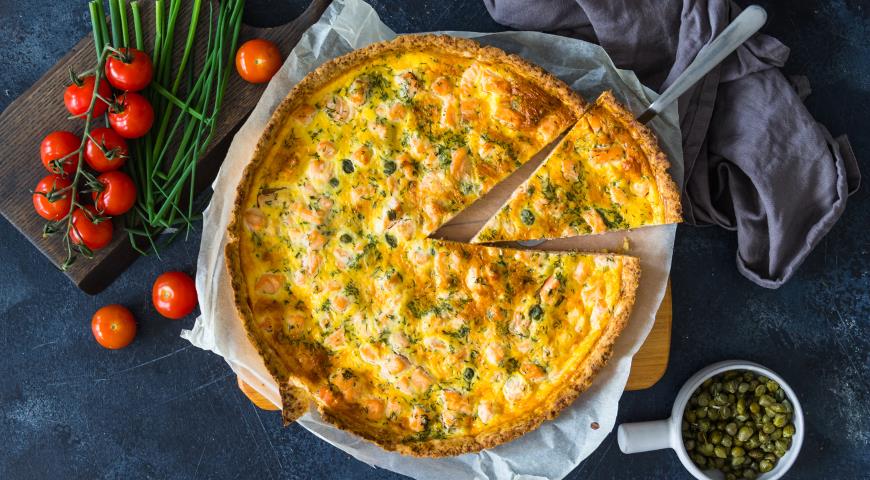 It is difficult to imagine a more versatile dish than a quiche. They called guests – bake a quiche, go to visit – bake a quiche, if you want something tasty for dinner – bake a quiche, there is some fish left, but you need a dish for the whole family – bake quiche again. You can think of many more situations like this: for a picnic; on the road, to work, for breakfast, lunch, and dinner, for weekdays and holidays. So go to the kitchen and bake quiche without hesitation. It will definitely come in handy.
Cook: 1 hour 30 minutes
Servings: 6
Ingredients
For the filling:
300 g salmon fillet
2 small tomatoes
5 sprigs of dill
4 eggs
180 ml cream, 10% fat
2 tbsp grated cheese
1 tbsp capers
salt freshly ground black pepper
For the test:
100 g butter
200 g flour
1/2 teaspoon salt
1 tbsp sugar
2 yolks
Directions
Remove the butter from the refrigerator beforehand to soften it. Sift flour into a bowl, add salt, sugar, and butter. Rub the butter and flour with your fingers until you have a fine crumb.

Add the yolks and collect the dough crumbs into a bowl. If necessary, pour in some more cold water, but not more than 1 tbsp Do not knead the dough, otherwise, it will be tough after baking! Wrap the dough in plastic wrap and refrigerate for 1 hour.
Cut the salmon fillet into small cubes and salt a little. Cut the tomatoes in half, then halve each half again and cut into slices 3-4 mm thick. Chop the dill finely.
Crack eggs into a bowl and whisk lightly. Pour in the cream, season with salt and pepper, add the grated cheese, and stir.
Preheat oven to 175 ° C. Remove the dough from the refrigerator and roll out on parchment into a 26 cm circle (for a 20 cm mold). Transfer the dough to the mold, press the sides well. Roll with a rolling pin along the top of the mold, so the sides are neat, remove excess dough. Prick the dough into the bottom with a fork and cover with a sheet of parchment. Sprinkle the beans on the paper and place in the oven for 15 minutes.
Remove the dish from the oven, remove the parchment and beans. Return the dough to the oven for another 5-7 minutes.
Place the tomatoes, dill, and fish on a baked basket, add the capers and pour the filling. Place the quiche in the oven and bake for 30–40 minutes. The finished quiche should shake slightly in the center. Leave the cake for 10 minutes. Serve warm or completely cooled.
Also Like
Comments for "Quiche with Salmon"