Roast Beef From Marbled Beef
by Editorial Staff
Well-cooked marbled beef roast beef can become a real decoration of any table, even a festive one. Meat is cooked in the oven according to a special recipe and has a little secret …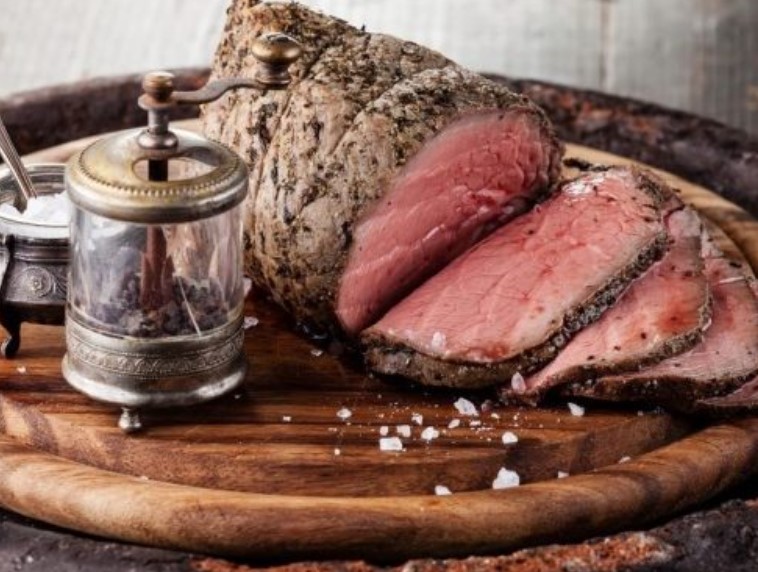 Cook: 2 hour
Servings: 4-6
Ingredients
Beef tenderloin – 1.5-2 Kilograms
Salt and Spices – To taste
Directions
The most important thing for preparing this dish is to choose the right meat. I usually take tenderloin or thin / thick rim meat. During the cooking process, the fat will begin to melt and the meat will soak in the juice.
As you know, beef aging can be of two types: wet and dry. Temperature is important in the process of cooking such meat. Be sure to remove all the film before cooking.
I usually wrap it with twine and then fry it a little on both sides. After that, cover with marinade and send to bake.

The simplest marinade is suitable for such meat: salt, pepper, rosemary, bay leaf, black pepper, garlic, basil and even barberry. In combination, all these herbs will give the meat an amazing and unique aroma and taste. We rub the beef, let it stand for a while. It can be placed in a net or tied with special threads, then put onion, cut into halves, and pour a little soy sauce with olive oil.
Beef is baked for about 45 minutes (based on 1 kg of meat). You should not pierce it in order to maintain juiciness. After roasting, the marbled beef roast must stand to distribute the juice evenly throughout the piece. Only then should the meat be freed from the twine and cut into pieces.
Bon appetit!
Also Like
Comments for "Roast Beef From Marbled Beef"