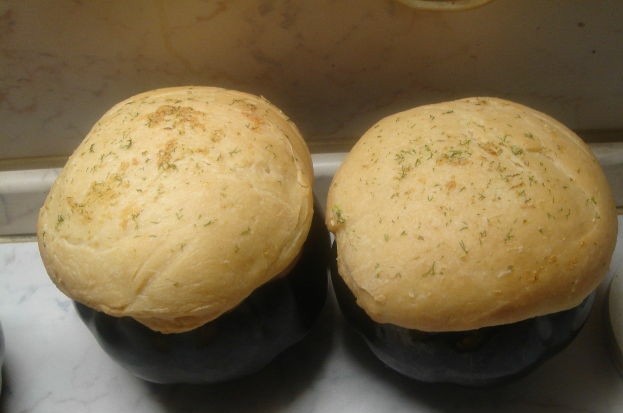 Home-style roast in pots with garlic donut lids.
Cook: 40 minutes
Servings: 4
Ingredients
Pork – 600 g
Potatoes – 2 small ones per pot
Bulb onions – 1 pc.
Bulgarian pepper – 1 pc.
Ground sweet paprika – 2 teaspoons (optional)
Mustard – a couple of teaspoons
Sour cream – 1 tablespoon per pot
Tomato paste – 2 teaspoons per pot
Pickled cucumbers – 2 medium for all
Dried dill (exactly dried dill is ideal for pickled cucumbers) – to taste
Carrots – 1 pc.
*
Dough for donuts:
Flour- 1.5 cups
Milk – 3/4 cup
Yeast – 2 teaspoons
Salt – 3 pinches
Vegetable oil – 4 tablespoons
*
To grease the dough:
Vegetable oil – 3 tbsp
Garlic – 1 large clove
Fresh dill, finely chopped – to taste
Directions
Finely chop the meat. Salt, pepper, add a couple of pinches of paprika for piquancy, mustard. Mix, fry and place in pots. Cut the potatoes into cubes. Fry – and in pots. Shred onions, bell peppers and carrots. Fry – and in pots.
Add 2 teaspoon to each pot. tomato paste, 1 tbsp sour cream, finely chopped pickled cucumber (about a couple of tablespoons). Fill with water (or chicken broth, as I did), so that it is covered by 3 centimeters from the contents, and into the oven, heated by 200 degrees.
After about 20 minutes, I put the lids of yeast dough on the pots. In the process of cooking, I grease the buns with a mixture of vegetable oil, garlic and dill. Well, and then – until ready, so as not to burn. It's about 20 minutes.
Bon appetit to you all!
Also Like
Comments for "Roast"