Rolls "California" With Sesame Seeds
by Editorial Staff
California rolls with red fish, avocado and sesame seeds are very easy to prepare! It only takes 30 minutes of your time! We will cook uramaki, the so-called "rolls inside out" or "rice out".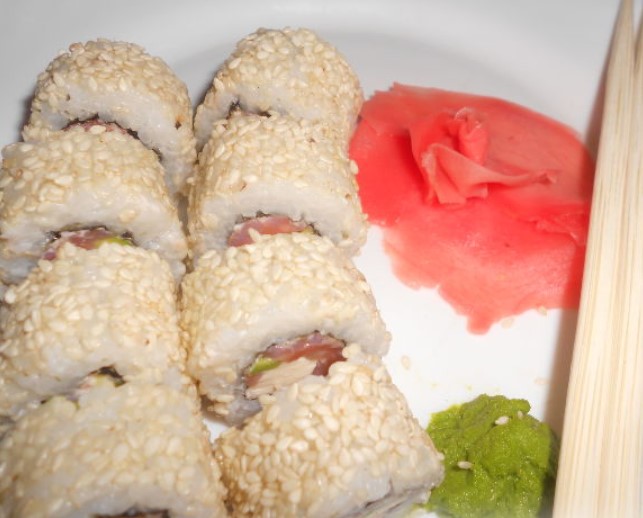 Cook: 30 mins
Serving: 1
Ingredients
Rice – 30 g
Sesame – 10 g
For filling:
Avocado
Red fish, slightly salted – 20 g
Processed cheese (cream)
Capelin roe with smoked salmon
Nori seaweed – 1 sheet
For refueling:
Rice vinegar – 10 ml
Salt – on the tip of a knife
Sugar – 1/4 teaspoon
For filing:
Pickled ginger
Wasabi
Soy sauce
Directions
First you need to cook rice. Take 120 g, this amount of rice is enough for 4 servings.
Rinse thoroughly and fill with water (160 ml). Place on the stove and bring to a boil. Then, under a closed lid, cook for another 10 minutes over low heat (do not stir!). After a while, turn on high heat for 10 seconds, then remove from the stove and leave for 5 minutes.
Meanwhile, prepare the filling.
The avocado must be cut in half. Better, of course, to choose a ripe avocado, but I took what it was. The darker the avocado, the more ripe it is. But do not buy too dark fruit, it can be spoiled
Peel the avocado and chop.
If you don't have avocado, this is not a problem. Can be replaced with a cucumber.

Cut the fish into long strips. I took salmon, but another red fish will do.
Now cut the cream cheese into strips. You can take the usual one, but the creamy one is much tastier.
Everything is ready, you can start forming the rolls.
Cover the bamboo rug (mat) with cling film. Since she was not at hand, I did it easier. Covered with a plastic bag. Place the nori sheet (glossy side down) on the mat. If you have large sheets, it is best to cut them in half.\
To prevent the rice from sticking to your hands, you should wet your hands every time before taking the rice. Now lay out a layer of rice evenly with an offset forward of about 1 cm.And on the other side, retreat about 1 cm, this strip will be needed to glue the roll.
Then sprinkle with sesame seeds. Roll up the mat and press down well.
Now turn the nori, as we will do it "rice out".
Brush the leaf with capelin roe.
Now put the filling: salmon, cream cheese and avocado. We try to place the filling closer to the edge from which we will begin to wrap the roll.

Moisten a strip of nori free of rice with water. Then take the top edge of the mat and, holding it well, wrap it up. Move the rolls a little away from you, and wrap it up again (it's easier for me, but you can just wrap the mat on the other side). We try to wrap tightly.
Done! It remains only to cut. To do this, moisten the knife with water and divide it into 8-9 even parts.
Serve the rolls best with wasabi, ginger and soy sauce. You can add lemon juice to soy sauce, it will taste better.

Bon appetit, everyone!
Also Like
Comments for "Rolls "California" With Sesame Seeds"