Rye Bread with Kefir
by Editorial Staff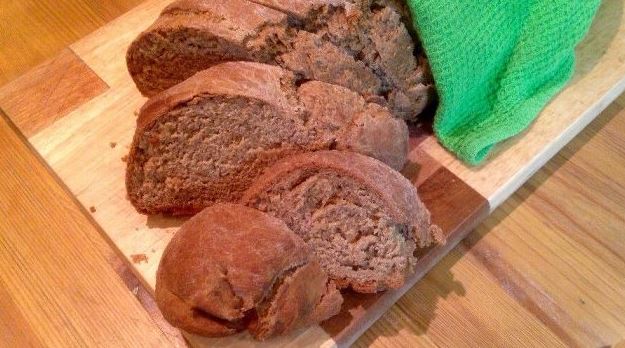 I present to your attention a very simple recipe for rye bread with kefir! Only 5 ingredients! You do not have to worry and suffer from yeast, as they are not used in this recipe! And you can bake such bread at any time since you will need a minimum of time and skill to prepare it!
Cook: 1 hour
Ingredients
Kefir – 450 ml
Rye flour – 250 g
Wheat flour – 150 g
Soda – 1 Dec. the spoon
Salt – 1 teaspoon
Directions
Pour kefir into a dry base. We knead the dough – it should turn out to be dense and elastic. Roll the dough into a ball and place it in a bowl.

Cover with a towel and leave in a warm place for 30 minutes.
Take out the dough after 30 minutes. Sprinkle flour on the table and dough. Knead the dough with your hands or roll it out with a rolling pin to make a square 1 cm thick.
Roll the dough into a tight roll and wrap the edges inward on both sides. Cover the baking sheet with parchment and grease with oil. Put the dough there.
We make oblique shallow cuts on the bread blank and grease everything with butter. We send it to an oven preheated to 190 degrees for 30 minutes.
Wrap the finished rye bread in a cotton towel and let it cool. Rye bread with kefir is ready.
Bon Appetit!
Also Like
Comments for "Rye Bread with Kefir"