Rye Bread
by Editorial Staff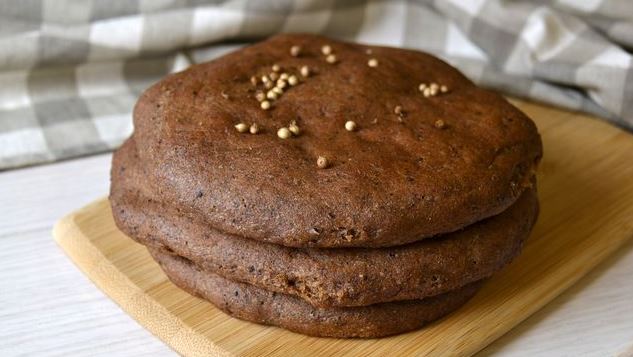 Rye baked goods are fragrant, healthy, and tasty. If you like rye bread, try this recipe for scones. The recipe is simple, and the taste of the cakes is amazing!
Cook: 40 minutes
Ingredients
Honey – 1 tbsp
Rye malt – 2 tbsp
Pressed yeast – 15 g
Rye flour – 500 g
Water – 450 ml
Salt – 1.5 teaspoon
Coriander (or sesame, cumin – seeds) – 1 tbsp
Vegetable oil (for greasing the baking sheet and working with the dough) – 1 tbsp
Directions
Pour 50 ml of boiling water over the malt in a suitable container, stir and set aside for 5-10 minutes. Crumble the yeast, pour 50 ml of warm water and leave for 10 minutes to bloom.
In a bowl of rye flour, pour in the blossoming yeast, brewed malt, and honey, add salt. Toss the flour and liquid ingredients with a spoon. Next, gradually pouring in the remaining warm water, knead the dough.

Knead the dough with your hands. It will get pretty sticky. Collect it into a ball. Cover the bowl with cling film and set aside for 2-3 hours to rise. After 3 hours, the dough is ready for use. After removing the cling film, you will see bubbles of well-risen dough.
Grease a baking sheet with vegetable oil or line with baking paper. Lubricate your hands with vegetable oil and, separating a small piece from the dough, roll a ball, then flatten it with your hands into a cake 7-8 mm thick.
Place the tortillas on a baking sheet and sprinkle with coriander (sesame or caraway seeds) seeds. Press the seeds into the dough a little. Make tortillas from the whole dough. Turn on the oven and preheat to 190 ° C. While the oven is heating up, the rye cakes will "fit" a bit and be ready to bake. Bake the tortillas in an oven preheated to 190 degrees for 20-25 minutes (focus on your oven).

The rye crispbread was baked well and turned out to be very aromatic, soft, and tasty.
Bon Appetit!
Also Like
Comments for "Rye Bread"