Salad with Red Fish and Omelet
by Editorial Staff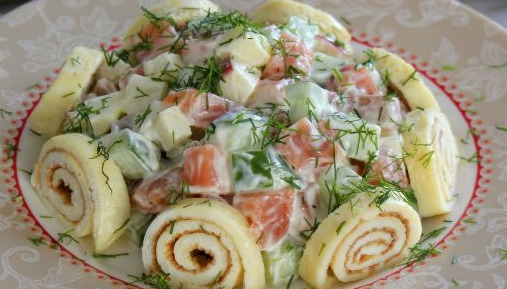 Recipe for a salad with red fish, cucumbers, and apples, garnished with omelet rolls.
Cook: 15 minute
Servings: 2
Ingredients
Lightly salted red fish – 200 g
Cucumber – 0.5-1 pcs.
Apple – 1-2 pcs.
Eggs – 2 pcs.
Water – 2 tbsp
Lemon – 1 slice
Mayonnaise – 1.5-2 tbsp
Fresh greens – to taste
Salt to taste
Oil – for frying
How to make a salad with red fish and omelet:
Directions
Peel the fillet of slightly salted red fish from the skin and all bones, cut it into cubes.
Cut the cucumber into cubes too.
Cut apples with or without peels (if you wish), also cut into cubes and sprinkle with lemon juice so that the apple slices do not darken.
Combine fish, apples, and cucumber, add mayonnaise, and stir.

For an omelet, combine eggs with baking soda and a pinch of salt.
Stir them together until smooth.
Fry one or two (depending on the size of the pan) thin omelets in butter or vegetable oil.
Then roll the egg omelet into a tight roll and slice it across.

Put the fish salad on a common dish, in portioned salad bowls or plates, and decorate it with omelet rolls. Sprinkle the prepared salad with red fish and omelet with fresh chopped dill or parsley.
Enjoy your meal!
Also Like
Comments for "Salad with Red Fish and Omelet"